NORIE: Northern Oregon International Educators
NORIE: Northern Oregon International Educators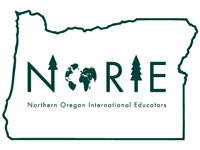 Northern Oregon International Educators (NORIE) is an organization created and run by international educators in the state of Oregon. NORIE provides a network for communication among professionals working in International Education.
Contact NORIE by email at [email protected].
Find upcoming event information and receive announcements by following the NORIE Facebook page.
June 8, 2010 Meeting Information
February 24, 2010 Meeting Information
December 2, 2009 Meeting Information