International Enrollment Management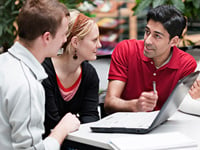 The International Enrollment Management collection of NAFSA's on-demand e-Learning Seminars serve as a valuable resource for professionals looking to jump-start or enhance their career in international student recruitment. Some of the topics covered within this collection include:
Recruiting strategies in emerging markets;
Building successful recruitment plans;
Working with recruiting agents, and,
Using data to enhance recruitment efforts.
Each seminar includes a discussion guide and curated list of additional resources. Stay up-to-date on current topics in a cost-effective way. Find the guidance and knowledge you need, when you need it.
Admission and Placement of International Students and Scholars
Contributing to Comprehensive Internationalization 
Planning for International Enrollment Management 
Preparing International Students and Scholars for Study in the United States
Recruiting International Students and Scholars