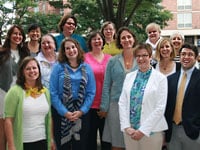 Academy Coach applications are closed for 2022. Applications will open again in April 2022 for the 2023 Academy Coach Class.
Academy coaches are volunteer members who work with a cohort of six trainees. They represent a broad range of expertise and have worked in the field of international education for more than five years. Coaches work with their trainees to develop the trainees' learning plans and guide them as they navigate the world of international education, including NAFSA. They also advise trainees on workshop and session selections at the annual and fall regional conferences. Each coach is trained to be knowledgeable in six coaching skill sets:
Knowledge of the Academy
Marketing and Recruitment
Building a Cohort
Supporting Trainee Development
Professional Tools
Facilitating Learning
Become an Academy Coach
Access to coaches' experience and knowledge is one of the greatest benefits for trainees. The coaches provide professional guidance and direction to trainees while they receive a broad overview of international education through a variety of workshops.
Note: You must be a NAFSA member to serve as a coach for the NAFSA Academy.
Interview with an Academy Coach
Loveness Schafer
Associate Director of International Services
Louisiana State University
Loveness Schafer shares her experience of being an Academy Coach and offers advice to new, incoming coaches. Read her interview.