Practice Area Column
International Enrollment Management
This Fall, Some International Students Stay Home to Study Abroad
Amid travel restrictions and visa processing delays, U.S. institutions and their partners are getting creative to accommodate international students.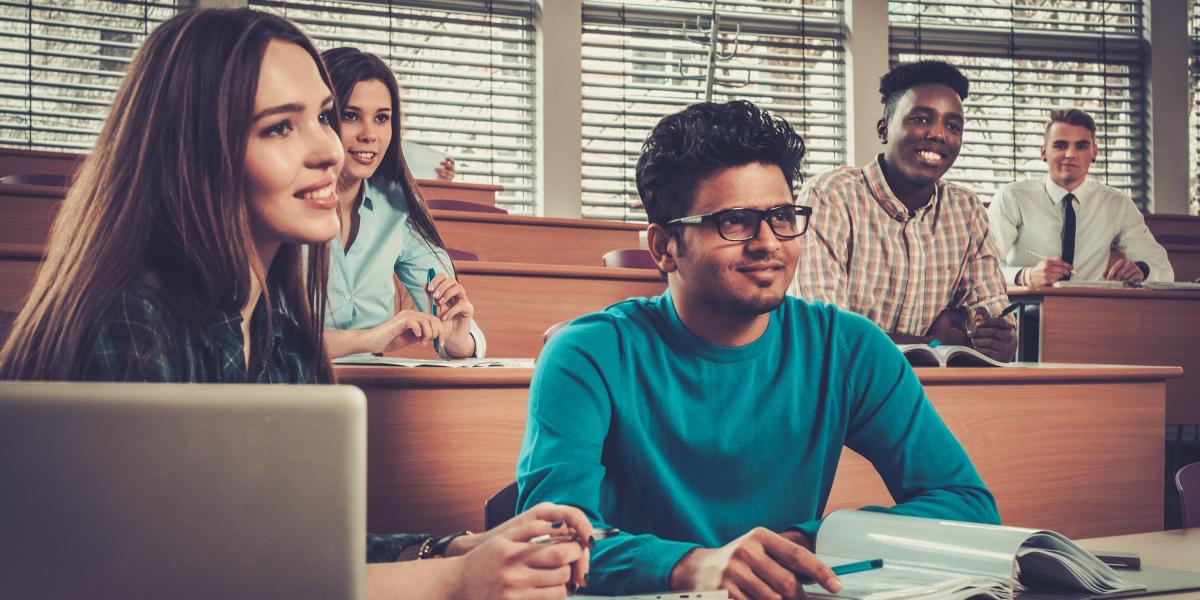 Only five of Lehigh University's 129 new international students will start their first year of college at the institution's campus in Bethlehem, Pennsylvania. The others are participating in Lehigh in Residence, "a program we set up for students who were not able to get to the United States" this fall, says Cheryl Matherly, PhD, vice president and vice provost for international affairs.
New international students who remained in their home countries were given three options: defer enrollment until spring; take a fully remote semester online; or participate in Lehigh in Residence, which offers in-person instruction to international students in their home country. A handful of students chose to wait until spring to begin their studies, but 69 students enrolled in a residential option with Lehigh's partner IES in Shanghai. One student will study as a visiting student at Sogang University in Korea, and another 55 first-year students are staying home while remotely taking classes that are taught at Lehigh. 
As international students who planned to study in the United States this fall are stuck in their home countries due to travel restrictions and delays in visa processing, U.S. higher education institutions are coming up with flexible and creative approaches to boost international enrollment. Some colleges and universities have turned to study abroad providers and international partners to host students in their own home countries.
Enrollment Uncertainty Encourages Flexibility
Lehigh might be among the few institutions that has not seen some decline in international enrollment. Many international enrollment managers have been worried about significant drops in numbers of international students because of uncertainty around COVID-19-related health and safety concerns, travel restrictions, and delays in visa processing. 
Most concerns about enrollment have been focused on first-time international students, a group that has already been declining since 2016. A July 2020 study from the Institute for International Education (IIE) found that around half of institutions reported lower application numbers from new international students compared to previous years, while a quarter indicated applications were about the same. 
These circumstances have encouraged institutions to adopt flexible policies and instructional models. Anticipating that many international students will be unable to travel for the foreseeable future, most institutions are allowing students to defer their enrollment to spring 2021 (87 percent) or take classes virtually from abroad (78 percent), according to IIE. 
The outlook for returning students is better. The IIE report found that more than 90 percent of institutions anticipate that the majority of international students who were enrolled and remained in the United States during the summer are continuing their studies in the fall.
Avoiding the Summer Melt
Because Lehigh is offering in-person classes on campus this fall, the university was not affected by immigration guidance that prohibits international students from obtaining visas if their coursework is virtual. But most of Lehigh's new international students were unable to get visas in time to travel to Pennsylvania for the start of the semester. 
In response to these visa issues, the Lehigh in Residence program offers a dozen general education courses that are taught by approved faculty abroad. Matherly says that all students are also taking an English language class offered remotely from its Bethlehem campus. "We have essentially created a remote freshman semester for them in Shanghai," Matherly says. (Read more about Lehigh in Residence in IE's July cover story, "Rethinking the Partnership Paradigm.")
Lehigh has also teamed up with study abroad partners to host 36 returning students in China and one in Greece, according to Matherly. 
One of Lehigh's strategies to prevent summer melt was the launch of the Virtual Student Success Academy, a three-credit English language class focused on information about the university. "It looks more like a monthlong orientation," Matherly says. "It talked a lot about academic success factors, such as how to study online and how to make the most of your remote experience."
The course, says Matherly, was crucial to Lehigh's retention strategy. "Even students who ultimately didn't have a Lehigh in Residence option could still do this and test out what it was like to be a remote student in Ethiopia, Zimbabwe, or Peru," she says. "They saw it was manageable to be an online student for their first semester."
These efforts, combined with individualized outreach from international office staff, have helped keep Lehigh's international enrollment in line with previous years. "I have never had a summer where it has been this much work to keep each student here at the university," Matherly says.
Leveraging Existing Partnerships
Like Lehigh, University of Pittsburgh (Pitt) has developed options for international students to take in-person classes abroad in three locations in China, as well as in South Korea and Vietnam. "Pitt on Location is a new program that leverages our study abroad partners to offer in-person learning experiences to students in their home countries," says Belkys Torres, PhD, executive director of global engagement at Pitt's University Center for International Studies. 
While the program is targeted at first-year students, it "also allows continuing students who got stuck back home to take general education courses so they don't lose time or credits," Torres says. 
Pitt chose partners with particular curricular strengths that align with specific majors of interest to students. Students have the option to commute if they live close to one of the partners, but accommodation is also available on site. Students can combine in-person classes offered at partner institutions with online courses offered through [email protected], an instructional model that allows both in-person and remote classes. 
"All of the [email protected] courses will have synchronous and asynchronous options," Torres explains. "Students have the opportunity to engage live or to watch recorded lectures and sessions and then participate via chat…through our learning management system."
Torres says that around 100 international students are participating in Pitt on Location, and another 200 will enroll in [email protected] courses. 
According to Torres, Pitt is currently anticipating the largest international undergraduate population they have ever enrolled. "We think it's because we've been able to be flexible and manage student expectations and needs," she says. 
Creating New Models
The University of Arizona has also worked with partners abroad to significantly expand its Global Microcampus Network from 10 to 150 students over the summer. Microcampuses offer a physical space for Arizona students on the campus of a university abroad or at another partner location. 
"Many of those locations are places where students would go study online, but have access to a university campus, high speed internet, and some academic support on the ground," says Brent White, JD, dean of Arizona's global campus and vice provost for global affairs.
Some locations offer housing and allow students to take some in-person classes. In India, Arizona has partnered with 91springboard, a coworking space that has 26 locations across the country. Students are taking online classes from Arizona, but they will have a community of other students, and the partner offers some job networking events. White says the coworking model in India is especially attractive to master's students. 
Arizona's on-campus enrollment is down by about 40 percent for first-time international students and 23 percent for transfer students, says White, "but we've made that up and more through our global campuses." 
He says enrollment on Arizona's global campuses, which includes both online-only and microcampuses, is up by 50 percent. The majority of students will likely continue to study from their microcampuses abroad, but "we have a couple of hundred students who had intended to come to the main campus but are [based] out of a microcampus right now until they can come to the United States."
Pivoting Business Models for Study Abroad Providers
In previous fall semesters, nonprofit study abroad provider CIEE has typically hosted approximately 2,500 students across the 32 sites it operates around the world. Now it has partnered with eight U.S. institutions to offer programs abroad for more than 1,200 first-time international undergraduates, as well as some continuing and graduate students. 
"In some ways it's a pivot, but in some ways it's something we've always done," says Seamus Harreys, EdM, vice president of global enrollment. 
CIEE has long provided customized study abroad programs, and this model is no different. "We're looking at this as a place where our partners have a need," Harreys says. 
The organization has created programs for first-year international undergraduates in Berlin, Seoul, and Shanghai. In Berlin, which is one of the few study abroad sites that CIEE is still able to operate amid the pandemic, students from the European Union will study alongside education abroad students from the United States. 
This collaboration has not only helped institutions recruit and retain international students, but also provided much-needed business for CIEE, which had to lay off staff around the world when global mobility came to a standstill at the end of March. 
In China, CIEE is also working with Clark University to offer an English pathway program for its graduate business program. "Clark, like many other institutions, runs these pathway programs as feeder programs into the graduate system," says John LaBrie, EdD, dean of Clark's School of Professional Studies. "Our ability to pivot and actually offer that in Shanghai means we're still going to take a hit on the enrollment side, but we mitigate that risk by diversifying where we're offering these programs."
Clark University has enrolled approximately 40 Chinese students at CIEE's site in Shanghai. The courses are cotaught by an instructor of record at Clark and an instructor on the ground in China. CIEE is also organizing company tours and networking events with Clark alumni, LaBrie says.
"We're creating the Clark experience in Shanghai to show that there's a continuity there," Harreys adds. 
Ben Waxman, CEO of Intead, helped CIEE recruit university partners. He says the benefit of the customized model is precisely that students feel a connection to their home university whether they are abroad or on campus. "It helps you build the relationship with your first-year students who don't know you yet," he says. 
Ramping up Virtual Support On and Off Campus 
Navigating such uncharted territory has required increased collaboration across campus and across partnerships. At Pitt, Torres says that developing Pitt on Location brought units such as study abroad and international student services closer together. "We've brought in our Office of International Services, which typically deals with immigration issues, to provide more support and services in terms of virtual programming to connect our international population with our domestic student population through social events, movie nights, and virtual tours of the city," she says. 
The University Center for International Studies has also partnered with Pitt IT to develop a web page that provides information on topics such as setting up a secure VPN, which platforms work best abroad, and how to find online tools such as email and learning management systems. They have also started to offer 24/7 help desk support. 
Torres adds that the Pitt on Location program has created an opportunity to deepen relationships with partners abroad. "In some ways, we've been able to really recognize and highlight those relationships, and how the trust that we built over time has allowed us to innovate and be creative together," she says. 
She points to Pitt's longstanding partnership with Sichuan University in Chengdu, China. "In a moment of crisis, we were able to rely on our trust and our ability to work together to do something really innovative," she says. "Moving forward then, our expectation will be to continue to partner with institutions that are that creative and flexible and that are interested [in taking] risks at all levels in the spirit of innovation and entrepreneurship for our student population."  •
About International Educator
International Educator is NAFSA's flagship publication and has been published continually since 1990. As a record of the association and the field of international education, IE includes articles on a variety of topics, trends, and issues facing NAFSA members and their work. 
From in-depth features to interviews with thought leaders and columns tailored to NAFSA's knowledge communities, IE provides must-read context and analysis to those working around the globe to advance international education and exchange.
About NAFSA
NAFSA: Association of International Educators is the world's largest nonprofit association dedicated to international education and exchange. NAFSA's 10,000 members are located at more than 3,500 institutions worldwide, in over 150 countries.