Practice Area Column
International Students and Scholars
It Takes a Village: Engaging International Students in Community Volunteering
Two institutions that foster international student engagement in service projects share their tips for success.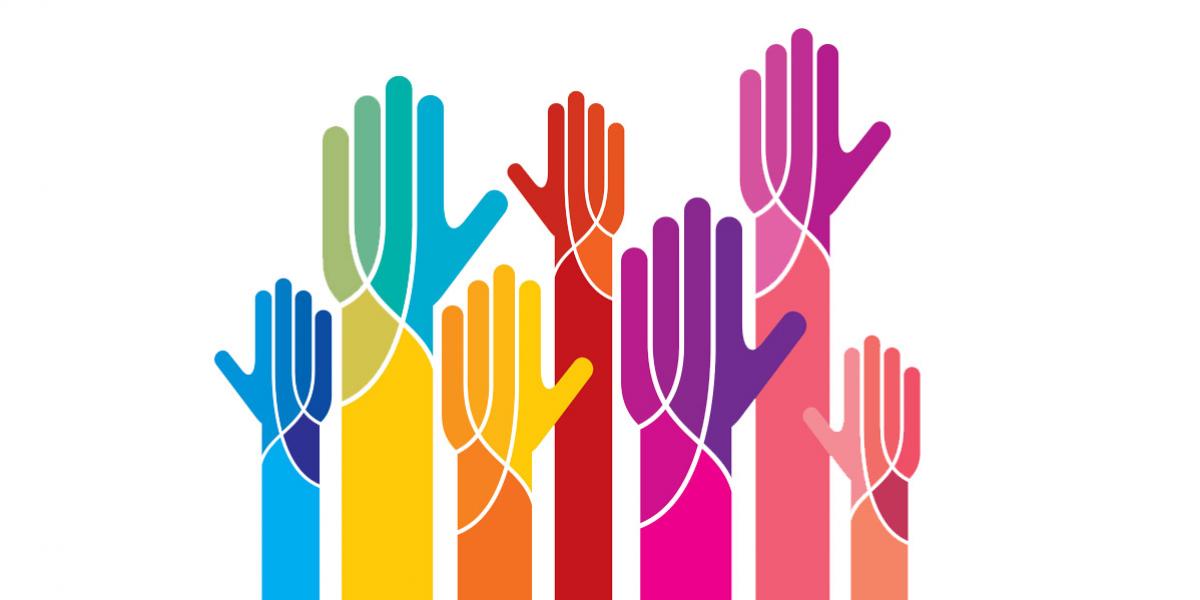 The connection between community and campus for many U.S. colleges and universities can be traced to their inception, when many were established to engage and prepare community members to work and maintain democracy. As campuses grew over time in size, mission, and student population, so has the complexity of their relationships to their communities, expanding from local to include global. 
A component of the campus-community relationship is student volunteering and service projects within the surrounding community, and these volunteer opportunities should be accessible to all students who are interested, including international students. Whether students are serving meals at a soup kitchen, building houses with Habitat for Humanity, organizing a clothing drive, or caring for dogs at an animal shelter, this connection provides a multitude of benefits for everyone involved.
Concepts taught in the classroom are brought to life in the real world, and volunteer experiences provide space for mentorship and growth. 
Students can engage in their community, providing avenues to deepen their commitment to their values, develop and apply new skills, network with professionals, gain experience, and learn how to be a community member. Concepts taught in the classroom are brought to life in the real world, and volunteer experiences provide space for mentorship and growth. Volunteer organizations, and the community itself, benefit from donated labor, new friendships, and the influx of energy and diversity that international students provide. 
Two institutions—one a large, public university and the other a small, private Catholic college—are examples of how any school can foster international student engagement through community volunteering.
Case Study: Indiana University-Bloomington
Indiana University-Bloomington (IU) operates as a decentralized campus, an approach that allows units to specialize and take customized approaches to their work. Community engagement is no exception. IU has more than 100 academic and co-curricular units that include opportunities for service, specialized programs, courses, research, or trips that encourage students to engage with the community. Here are a few strategies that have helped IU successfully implement student volunteering across dozens of units.
Consolidate efforts across departments.
Due to the large number of campus programs and the diversity among them, community partners and students alike found it overwhelming to navigate the campus culture and opportunities for engagement. As a response, IU outlined a new vision for the future of service through its 2018 strategic campus plan: a new, centralized unit called IU Corps that supports students and communities navigating the institution's extensive network and resources.
Since its inception, IU Corps needed to establish foundational systems to ensure long-term success. In its first year, the office established a centralized volunteer opportunity management system by connecting with local organizations and their posting tools to streamline processes between the city and campus. IU Corps also developed a consistent communication channel using Salesforce to deliver biweekly newsletters to students that share volunteer opportunities, stories of service, events, and news related to community engagement. Many units on campus use this channel to advertise their service opportunities as well, leading to an increase in student participation.
Measure and report volunteers' time.
The next foundational elements required for program success were metrics. Students reported a desire to track their volunteer hours—for graduate school applications, scholarship programs, employer application processes, and class credit, among other reasons. IU Corps partnered with a campus IT development group to design a custom web-based portal for students to track their volunteer information. This portal also allows the campus to measure students' activity based on their demographic data. 
Ask about students' goals and values—and act on them.
Students' goals for service are ever-changing, and it is important to understand them. In the wake of the #MeToo movement, George Floyd's murder, Greta Thunberg's climate change activism, and other events, students communicated more about the issues and causes they care about. To hear directly from students, IU Corps hosts events on campus to engage with students and better understand these passions. A student advisory board expands the depth and breadth of listening to students' needs, and the group identifies service barriers and potential campus solutions.
"By interacting with locals, I see the reality of economic inequality that impacts impoverished groups across race, age, and ability status," says Ting-Han, a student from Taiwan. "Work with volunteers and staff also provides opportunities for cross-cultural conversations on important issues such as food advocacy, and it affirms my awareness of the importance to build alliances across groups to fight for justice."
"Work with volunteers and staff also provides opportunities for cross-cultural conversations on important issues." —Ting-Han
IU Corps has found that students desire diverse opportunities and ways to connect with the community, allowing them to filter based on personal social values, time capacity, academic goals, and location. One student may desire a local, one-time opportunity alongside a student organization, while other students seek individualized research projects with community health coalitions where they can apply their skills from the classroom. Ultimately, IU Corps seeks to provide an array of engagement and education opportunities.
Proactively work with partners on and off campus to set expectations. 
When local agencies seemed reluctant to work with international students, IU Corps approached the Office of International Services (OIS) for help. Discussions with the agencies identified a number of communication and cultural issues that were creating concern. Together, IU Corps and OIS developed a brochure that includes welcome kits for partner organizations. The brochure addresses considerations such as setting expectations, awareness of religious guidelines around food, direct vs. indirect communication styles, tips to help communicate with a non-native English speaker, and encouragement to enjoy learning about different cultures.
Case Study: Albertus Magnus College
Founded in the Dominican tradition, Albertus Magnus College applies the four pillars of study, prayer, community, and service to its mission. This small, private Catholic college embraces the practice of giving back to the community and empowering leadership development of the 1,200-person student body through volunteering. In 2019, about 80 percent of the undergraduate student body participated in volunteer activities, and 100 percent of international students participated in community service projects. Several approaches help Albertus Magnus achieve these levels of participation.
Make it mandatory, but keep it intentional.
At Albertus Magnus, all first-year students are required to complete a minimum of 3 hours of volunteer service as part of their Intro to College Life class. Service learning is a structured experiential learning approach that connects academic coursework, preparation, and reflection with community service through collaboration and reciprocal learning. The service learning initiative cultivates partnerships between the college and the greater New Haven, Connecticut, community that afford students opportunities to practice civic engagement and social responsibility as they develop workforce and community leadership skills. The college's sports teams also provide avenues for athletes to give back as a community, and there is an annual campuswide day of service each spring.
Direct students to departments with deep expertise.
All students, including international students, are able to access community service opportunities through the Office of Dominican Ministries, which offers options both on and off campus. Dominican Ministries serves those living in poverty in the community, as well as at-risk and marginalized populations, with a slate of outreach programs. The center's variety of service opportunities helps students put their desires to serve into action.
Integrate volunteering into programming for international students.
The importance of the service activities is that they make international students aware of the needs in the community and ways they can contribute. While many societies and cultures place a strong emphasis on currency and personal gain, community service and volunteering allow students to use their time, talents, and skills for the common good. Some students initially perceive volunteering to be a waste of time, but many who eventually embrace service find the value in their contributions and feel gratification from helping others. 
"When I was back home, I did not participate in volunteer work," says Anna Lucía, a student from Mexico. "I was primarily focused on my studies and sports. I find the encouragement to volunteer empowering and feel like I am making a difference." 
Enhancing International Students' Experiences in the United States
International students have often expressed a desire to volunteer in their community. Sometimes that desire is altruistic, and they truly want to give back. Sometimes their interest is rooted in a desire to interact with U.S. natives, get out of their college bubble, make new friends, learn a new skill, or create a team-building activity for their student organization. Other times they are looking for résumé material, especially if they are having trouble making time for or finding an internship or on-campus job. 
Whatever the reason, institutions small and large can create opportunities to enhance international students' experience studying in the United States by connecting them with volunteer opportunities in the local and campus communities.  •
---
What do the regulations say?
To be considered a volunteer, the work performed by an international student must meet the following criteria (found in NAFSA's Adviser's Manual 360):
There is no expectation of compensation, which is not limited to money. (Compensation could include a meal, gift, etc.)
The volunteer cannot displace a genuine employee.
The services provided by the volunteer should not be the same services for which he or she was previously paid or expects to be hired in the future. 
Optional Practical Training (OPT): Volunteering is allowed, but if it is being used to stop the accrual of unemployment, then it must be 20 hours per week minimum and in the student's field of study. STEM OPT must be paid employment.
There is a pandemic exception: For the duration of the COVID-19 emergency, the Student and Exchange Visitor Program (SEVP) considers students who are working in their OPT opportunities fewer than 20 hours a week to be engaged in OPT. 
Curricular Practical Training (CPT): CPT is allowed, as consideration is given to training programs, noncredit internships, and practicums. CPT must be integral to the student's curriculum and in their major field of study. 
Academic training: Advisers can authorize academic training for unpaid labor (within employment regulations) as long as students have adequate financial support to extend their stay. 
For instance, IU will allow an international student to work in a strictly volunteer position but cautions students strongly on awareness about the compensation rule. Few, if any, of these activities would satisfy CPT requirements. In cases where they do, or in the case of an unpaid internship, CPT is strongly encouraged.
About International Educator
International Educator is NAFSA's flagship publication and has been published continually since 1990. As a record of the association and the field of international education, IE includes articles on a variety of topics, trends, and issues facing NAFSA members and their work. 
From in-depth features to interviews with thought leaders and columns tailored to NAFSA's knowledge communities, IE provides must-read context and analysis to those working around the globe to advance international education and exchange.
About NAFSA
NAFSA: Association of International Educators is the world's largest nonprofit association dedicated to international education and exchange. NAFSA's 10,000 members are located at more than 3,500 institutions worldwide, in over 150 countries.