Practice Area Column
Teaching, Learning, and Scholarship
Goalkeeping on a Global Scale
The United Nations Sustainable Development Goals paint an aspirational vision of the future. They also can provide a practical point of entry for internationalization across multiple disciplines.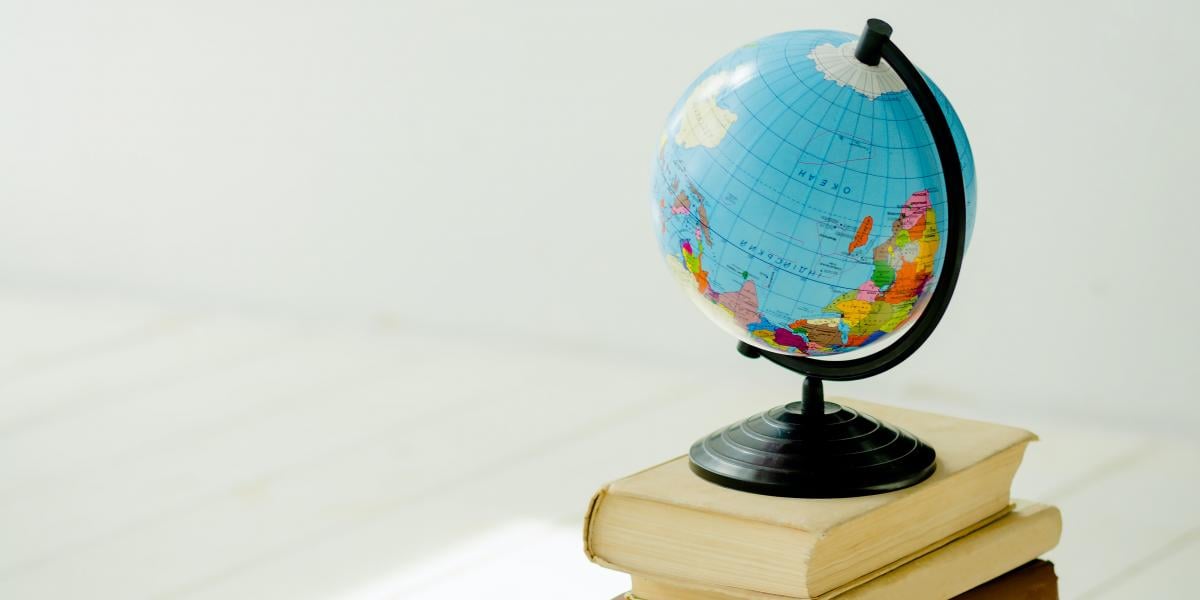 When international students discuss how the United Nations' Sustainable Development Goals (UN SDGs) are being put into practice in their countries, the conversation comes to life in the international education policy class that Anne Campbell, PhD, teaches.
The discussion "brings forward a familiarity with global concepts, and [it] shifts the voices in the room when we have examples from Egypt [or] Vietnam . . . about what's happening in that country instead of it being an abstract," says Campbell, associate professor of international education management at the Middlebury Institute of International Studies in California. "There's a lot of debate, discussion, and excitement."
That's the entire point, according to educators in and adjacent to the international education field who argue the SDGs are an essential part of preparing students across multiple disciplines for a challenging—and necessarily global—future.
"The SDGs are not tangential to professional learning," says Lisa Sachs, PhD, director of the Columbia Law School's Center on Sustainable Investment. "They are foundational as a way to understand our societal challenges, goals, and trajectories. . . . Curricula can consider not only how our global challenges and goals influence practice, but also how various professions can and should play a role in the necessary transformations."
About the SDGs
The SDGs are a set of 17 broad and interconnected goals that were adopted by all UN member states in 2015 as part of the UN's 2030 Agenda for Sustainable Development. The goals are as sweeping as they are aspirational, ranging from ending poverty and hunger to reducing inequality, addressing climate change, and strengthening the health of both humans and the environment that sustains them. Those are no small tasks, and Sachs argues that universities are the ideal place to develop the skills needed to tackle them.
"Achieving these goals will require fundamental transformations of our society, economics, health systems, energy systems, urban spaces, and more," says Sachs, who was also a 2020–21 NAFSA Senior Fellow. "Universities are uniquely placed to foster interdisciplinary understanding and problem solving, to incubate new ideas and technologies, and to promote the values and ethics that underpin peaceful and sustainable societies. International education in particular enables the global exchange of knowledge, ideas, and experience that underpins solidarity and problem solving, globally adapted to various local contexts."
"International education in particular enables the global exchange of knowledge, ideas, and experience that underpins solidarity and problem solving, globally adapted to various local contexts." —Lisa Sachs
Importantly, the SDGs single out international scholarship and education as a key component, providing a powerful impetus for broader internationalization efforts. "I find it really compelling that 193 governments agreed that promoting cross-border mobility is a tool for development," Campbell says.
For some institutions, the SDGs have become a part of campuswide initiatives beyond international and sustainability education. At the Georgia Institute of Technology (Georgia Tech), for example, President Ángel Cabrera has called on all departments and units to "promote, implement, and advance" the goals.
"Empowering our students to use their disciplinary knowledge and skills to advance the SDGs while at Georgia Tech and in their future professions is part of our strategic plan," says Rebecca Watts Hull, PhD, service learning and partnerships specialist at the Center for Serve-Learn-Sustain at Georgia Tech. Initially focused on embedding sustainability and the goals into its own faculty development and community partnership initiatives, the center plans to partner with academic departments to develop SDG-linked learning outcomes appropriate for each degree program, according to Hull.
And, while SDGs aren't the sole provenance of international education, the ability to make global connections across multiple disciplines speaks to the heart of what internationalization means, educators say.
"As we're looking at what happens toward the end of COVID and thinking about the exchange of ideas and mobility, it's still a very viable and thoughtful framework and roadmap of where we want to be by 2030," Campbell says.
Curricular Challenges
For programs and courses with an international or sustainability component, the SDGs are an easy fit. The Forum on Education Abroad, for example, created guidelines for advancing the goals through study abroad programming. However, identifying ways to incorporate the SDGs into curricula remains a work in progress across multiple disciplines.
"A lot of people out there are thinking about this, both in international education as a scholarly field and those looking at it from other disciplines," Campbell says.
Some institutions have developed resources such as worksheets and guides. However, "because teaching with the SDGs is really pretty new, we've had a hard time finding examples of lessons, projects, assignments, and syllabi that are not explicitly about sustainability," Hull says. However, sustainability and other principles espoused in the SDGs are a point of entry to engage faculty members in almost any field.
"The part about empowering students to make change in the world—we've found that this piece is an element that faculty are really interested in, but outside of the social sciences, they feel like they don't know how to do that." —Rebecca Watts Hull
"The part about empowering students to make change in the world—we've found that this piece is an element that faculty are really interested in, but outside of the social sciences, they feel like they don't know how to do that," Hull says. "It's particularly important for us all to figure out how we support faculty not only to incorporate some of the SDGs, but to think through how they're empowering students to do something with this knowledge and these skills if they choose to do so."
Three Strategies for Success
Educators seeking to encourage the use of SDGs in the classroom need to provide faculty with meaningful supports, particularly in disciplines where sustainability isn't embedded in existing curricula. Among potential strategies are these:
1. Connect the SDGs to broader pedagogy.
It's important to link the goals with broader institutional efforts around course design and effective pedagogy, according to Hull. At Georgia Tech, the Center for Serve-Learn-Sustain collaborates with the institution's Center for Teaching and Learning to develop aligned resources. "It doesn't make sense to provide resources to faculty members that aren't closely linked to resources that help them design courses and engage students more generally," she says.
To that end, the two centers have worked to link SDGs with high-impact instructional practices, like faculty training, that are applicable across all fields. "By making those connections, you can find great allies on campus and also speak in a language with which faculty may already be well versed," Hull says.
2. Find—or develop—resources for faculty.
To encourage faculty adoption, programs are developing resources and exemplars. For example, Georgia Tech produced a video from a faculty learning community, including a faculty member who redesigned her cellular and molecular biology course to incorporate the SDGs through examples of gender inequality. The video incorporates the story of Henrietta Lacks, a Black American woman whose cancer cells were used in research without her permission in 1951.
"We're working pretty intensively to build resources so faculty don't feel like they're reinventing the wheel," Hull says. Doing so, she adds, "makes it easier for more folks across all disciplines to identify appropriate places to incorporate the SDGs."
It's also important to look at the growing world of teaching resources around the SDGs and share them as resources for faculty. "There has been a proliferation of resources in recent years—articles, reports, massive open online courses, and others—that link diverse disciplines to climate change and the SDGs," Sachs says.
3. Encourage collaboration within—and beyond—institutions.
The Center for Serve-Learn-Sustain at Georgia Tech has sponsored a faculty learning community and faculty fellows. This month, it plans to kick off a faculty community of practice in collaboration with two other Georgia institutions, Kennesaw State University and the University of Georgia. Other universities have also expressed interest in collaborating, according to Hull.
"We're hoping that the community of practice structure will enable all of our institutions to combine more resources we can share," Hull says.
Also, educators can look to other institutions and resources, including interdisciplinary conferences focused on teaching SDGs, books, and cross-institutional organizations, such as the more than 170 Regional Centres of Expertise on Education on Sustainable Development across the globe.
"If I was trying to think these through, I'd probably look for different examples of what different universities are doing around the world," Campbell says.
The End Goal(s)
If brought to fruition by the target year of 2030, the SDGs could change the trajectory of human progress. More immediately, they are already providing newfound meaning and purpose for faculty and students alike.
"Schools and professors who embrace the SDGs not only play a role in their achievement, but will also strengthen the attractiveness of their courses and programs and the preparedness of their students for future careers," Sachs says.
And, learning about the goals and putting them into practice represents internationalization in its fullest sense.
"For international educators, the desire to understand the world, to explore, to care about others, and to give and give back are central to the experience, and they're absolutely connected to the SDGs," Campbell says. "We all have different challenges, cultural backgrounds, languages, and perspectives, but we're all aiming toward similar goals."  •
NAFSA Resources
Additional Resources
About International Educator
International Educator is NAFSA's flagship publication and has been published continually since 1990. As a record of the association and the field of international education, IE includes articles on a variety of topics, trends, and issues facing NAFSA members and their work. 
From in-depth features to interviews with thought leaders and columns tailored to NAFSA's knowledge communities, IE provides must-read context and analysis to those working around the globe to advance international education and exchange.
About NAFSA
NAFSA: Association of International Educators is the world's largest nonprofit association dedicated to international education and exchange. NAFSA serves the needs of more than 10,000 members and international educators worldwide at more than 3,500 institutions, in over 150 countries.
NAFSA membership provides you with unmatched access to best-in-class programs, critical updates, and resources to professionalize your practice. Members gain unrivaled opportunities to partner with experienced international education leaders.