Practice Area Column
International Education Leadership
Best Practices for Managing Remote and Global Teams
Whether team members are scattered across oceans or across home offices, leaders can rise to meet the challenges of remote work.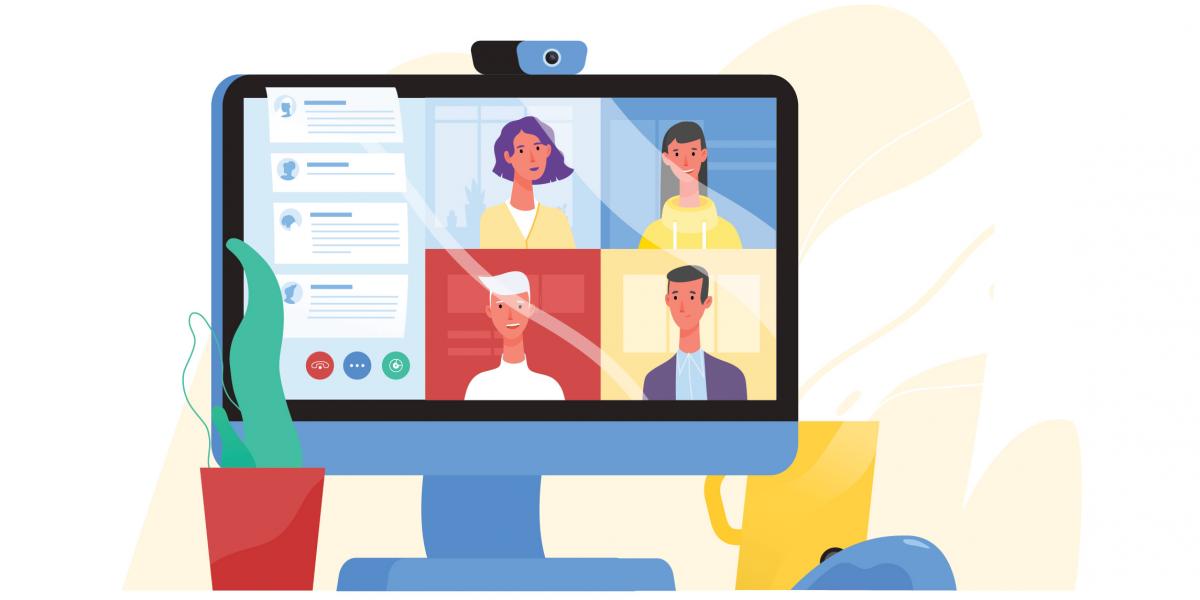 The current global pandemic has challenged the workforce to uphold operations without the natural ease of in-person engagement. One silver lining for international education professionals is that many are already familiar with working remotely and the challenges therein. (Though online instruction presents a different set of challenges.)
It is common for institutions with substantial international engagement—especially those with global or branch campuses in other countries—to make use of overseas offices, consultants, and seasonal employees. However, in recent weeks, the demand on managers to adapt working habits and mobilize entire teams has strained even the savviest leaders. 
Whether a team is entirely or partially remote or team members work across multiple time zones (or a combination of both), remote leadership can be difficult. The current crisis will force managers to creatively reconsider their methods. With a little effort, this process can extend beyond simple adaptation and lead to new ways of working that have long-lasting impact. 
Redefine the Workday
What time is it? 
When teams operate across different time zones, work hours need to be carefully considered to maximize the amount of synchronous work that can be accomplished. For example, moving the workday ahead or back by an hour or two can add valuable time for live collaboration among team members. When the schedule is designed well, it can actually expand operational coverage beyond the traditional business day without requiring any individual to work overtime. This allows teams to react and interact with students from many regions quickly and fluidly.  
The current crisis will force managers to creatively reconsider their methods. With a little effort, this process can extend beyond simple adaptation and lead to new ways of working that have long-lasting impact. 
Staff members may also find it helpful to arrange their work in blocks so that teamwork occurs at the beginning or end of the day when global colleagues are available. Independent work is then scheduled for the portion of the day when distant colleagues are off the clock. 
Flex time versus remote work 
Clear definitions help members of a team understand what is expected of them. Flex time is not the same as remote work, although the two often overlap. It is important that teams are clear about when they are expected to be available and how their work will be measured. If a productive team member cranks out a project from 2:00 a.m. to 4:00 a.m., is it okay to take the following afternoon off as flex time to visit the supermarket? Or is it preferred that staff members are at their desks and ready to respond throughout the defined workday? Setting these guidelines in place early on will help to reduce confusion and inefficiency. 
Define off-duty time
In the digital age, it has become increasingly difficult to separate work time from personal time, a distinction that is further blurred when the work is both remote and global. While work-related demands may continue unrelentingly around the clock, especially in times of crisis, managers can create boundaries to avoid the slippery slope toward a 24-hour workday. 
Depending on the outlined job functions and responsibilities, it may be a reasonable expectation for international professionals to take a call at 10:00 p.m. or answer an email at 7:00 a.m., but tempering those demands with clearly defined rest periods will safeguard team morale. Rest periods work best when senior staff lead by example and apply the terms to everyone universally. This avoids the temptation and peer pressure to respond to a message when one or more people break from the pack. A true rest period is supported by clear expectations for tuning out communications and for recognizing emergencies and exceptions.
Wendy Kuran, associate vice president for development at Duke University, leads a team of seven in China and two in the United States. To accommodate both time zones, she arranges staff meetings to occur in the evenings for the U.S. staff and builds free time into their afternoons. She believes that modeling work-life balance is critical in ensuring that the team takes it seriously. "I'm transparent with my team about taking personal time," Kuran says. "I'll tell them, 'I can't do a Monday night call, I have choir rehearsal,' or 'My son is in town, so I am taking a morning off.'"
Create a Communication Policy
With the plethora of technologies available, managers are spoiled with choices when it comes to communication and project management tools. Many teams make use of phone, email, messaging apps, and social media platforms, but there is a danger of information overload. It is easy to become overwhelmed and disoriented when multiple streams of communication ping across multiple devices. In his capacity of strategy consulting for higher education institutions, Ben Waxman, chief executive officer of Intead, cautions clients against the temptations of "feature-rich tools." 
"I find that the simpler tools with fewer features have better user adoption. If people don't use it, what's the point?" —Ben Waxman
"They put so many features into [some of these] tools, and there are few people who can make use of all of them," he says. "I find that the simpler tools with fewer features have better user adoption. If people don't use it, what's the point?" He recommends Slack or Microsoft Teams for simple team collaboration and Trello for basic project management.
A great way to streamline the use of these tools is to map them out, determine their key usage, and eliminate redundancies. Once the list is narrowed to two or three tools, each one can be clearly outlined in a communication policy that specifies when, why, and how to use it to accomplish work objectives.
Evaluate Staff Development and Performance
Keep talking
When a working relationship shifts from in person to remote, one of the biggest losses is the lack of spontaneous conversation. This can be particularly challenging for supervisory relationships that rely on quick clarifications of objectives, meaningful brainstorming sessions, and observations of work productivity.
A successful remote relationship may require more deliberate communication in the form of quick daily calls, text messages, or online chats, particularly if staff members are on the same or adjacent time zones. As with the broader communication policy, it is important that supervisors give clear expectations for the usage and frequency of communication tools.
Maintain a log
When managing remote global teams with sizeable time zone gaps, the options for synchronous communication can be quite limited. Supervisors might wake to find a flood of messages, requests, questions, and concerns that have come in throughout the night. Then begins the time-consuming and inefficient chore of sifting through the pile of communications, which raises the risk of skimming or overlooking something important. 
Some leaders find that a daily log works best for communications with direct reports. Team members are instructed to start each workday with an email draft to their supervisor. They then add important communications and updates to the draft throughout the day. Before sending the email at the end of the day, they take a moment to categorize items in the list and flag anything urgent. This allows supervisors to quickly read, analyze, and respond. This daily email digest is a simple way to consolidate communication, but others may prefer a more detailed approach by using project management tools such as Basecamp, Slack, Teams, Trello, and others.
In another approach, Kuran at Duke instructs team members to create simple weekly work plans that relate to the team's overall operating plan in a shared document, which is then discussed at team meetings as needed. Kuran, who includes her own weekly work plans in the document, says this method "sustains a culture that we are all one team doing this together. Everyone is important, and we all know what each other is doing."
Measure quality over quantity 
When the work environment is absorbed into a screen, it becomes more difficult for supervisors to rely on desk time to measure and observe productivity and performance. Waxman believes that newly remote managers will have to reconsider their supervisory style. "As a manager, what do you do when an employee doesn't respond right away?.…There is inevitable skepticism [when you] can't see them," he acknowledges. "We do have to reimagine staff assessment." 
For roles that require a continuous presence—frontline services, social media management, and others—timestamps and work logs can measure the volume and frequency of work output. Managing remote knowledge workers, on the other hand, provides supervisors with a great opportunity to shift their thinking about performance away from desk time and toward work quality. 
For example, if an employee is tasked with writing a weekly social media activity report, the content of the report, the depth of analysis, and on-time submission ultimately matter more than the number of hours the employee spent creating it. 
Build a Community
As many around the world have recently learned, communities can be maintained, nurtured, and even created with the support of technology. Staff meetings held over video conferencing tools lend themselves to many personal and sometimes comical interactions that help to connect team members. Countless memes and YouTube clips showcase pets, small children, and other humorous interruptions to video meetings. However, community building does not have to be spontaneous. There are many ways that leaders can foster working relationships and team morale with remote tools. 
"Be flexible; take the time to get to know the team on a personal and professional level." —Salma Benhaida
Salma Benhaida, director of international recruitment, admissions and sponsored programs at Kent State University, works with frequently remote offices and consultants. "When you are on different time zones and working remotely, it adds another layer of challenge," says Benhaida. She recommends using team-building exercises as one way of addressing the limited window for meetings and interactions. Her advice to any leader newly tasked with remote management: "Be flexible; take the time to get to know the team on a personal and professional level."
Watercooler talk
When making use of chat-based tools like Slack or Teams, "just for fun" channels can be created for spontaneous conversation, memes, videos, and discussions of the latest must-watch Netflix shows. In the current climate, a bit of levity and casual engagement among coworkers can help teams stay connected and boost spirits. Waxman also recommends developing a brainstorming channel where staff members help one another with instant collaboration for marketing headlines, messaging, and other creative endeavors to break up the day.
Celebrations and traditions
As alternatives to monthly birthday lunches or doughnut Fridays, some teams develop new traditions around video conferencing, including virtual coffee meetings, birthday singing, "formal Fridays" (in which staff members dress up for meetings), and virtual background competitions. Simple icebreakers can work well, too. For example, staff meetings can open with trivia or a question designed to help the team members get to know one another better. 
Another uplifting tradition is to create a place for staff to recognize excellence in their peers. Tools like Microsoft Teams allow participants to issue badges, like "team player" or "problem solver," to acknowledge colleagues' special accomplishments. Those who prefer a simpler approach can ask staff to mention such accomplishments during regular staff meetings. 
Voice communication
Part of the effort in building that community dynamic is ensuring that staff members can communicate about both their positive news and more pressing needs. Some messages are better explained verbally and with the important clues found in a tone of voice. Voice memos are a powerful tool to convey feeling in an asynchronous environment—especially for sensitive matters, but also for personal check-ins, complex conversations, and explanations about new directives. 
Adapt to Thrive
Adapting to remote leadership, especially on short notice, can be a major challenge. But through the difficulties and adjustments, leaders have a fresh opportunity to be creative, rethink their habits, and motivate their staff in new ways. With effort and ingenuity, leaders may find that this process of reconsidering their methods yields ideas and practices that have long-lasting success.  •
About International Educator
International Educator is NAFSA's flagship publication and has been published continually since 1990. As a record of the association and the field of international education, IE includes articles on a variety of topics, trends, and issues facing NAFSA members and their work. 
From in-depth features to interviews with thought leaders and columns tailored to NAFSA's knowledge communities, IE provides must-read context and analysis to those working around the globe to advance international education and exchange.
About NAFSA
NAFSA: Association of International Educators is the world's largest nonprofit association dedicated to international education and exchange. NAFSA's 10,000 members are located at more than 3,500 institutions worldwide, in over 150 countries.