Practice Area Column
International Students and Scholars
Supporting International Students During COVID-19
How to help international students who remain in the United States, from navigating housing logistics to providing social and emotional support.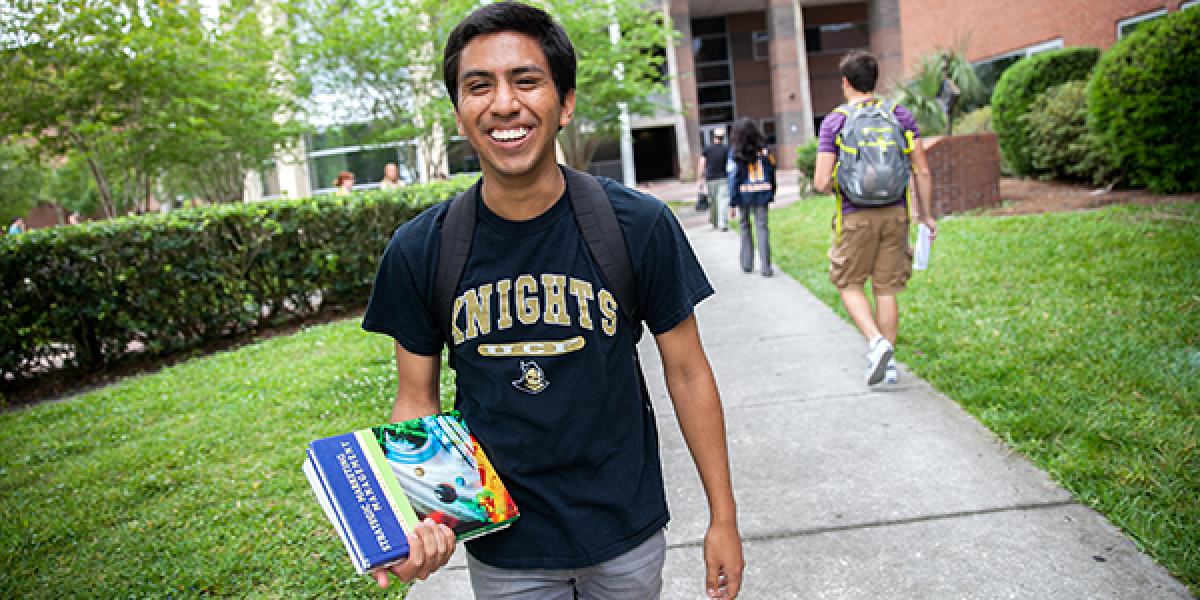 Like most international graduate students at University of Central Florida (UCF) in Orlando, Burak Sen lives off campus in his own apartment, where he has been sheltering in place since late March due to the coronavirus (COVID-19). A doctoral student from Turkey who studies sustainability and emerging truck technologies, Sen was surprised when he got a call at the end of the month from an international student adviser at UCF.
"​They called me to check in on me, asking how I have been doing, whether I was in need of something special, and they provided updates regarding the pandemic," he says. "You are thousands of miles away from home and do not know what is coming up next; the situation is highly uncertain…so you do not know when you will be able to go home. At times of such uncertainty, such a call becomes quite empowering."
All 3,000 of UCF's international students received a call from the international office. Christina Khan, director of UCF Global, says it took her staff about a week and a half, starting March 24, to get through the list of students.
"In the age of email, having a phone call with a real person was something our students and scholars really appreciated, and [it] made them feel valued, appreciated, and included," she says. "It also provided our staff with insight into how to better support the international community during this pandemic."
As COVID-19 spread throughout the United States in March and campuses began to close and pivot to online learning, international students across the country faced tough decisions about whether to go home or stay in the United States. Students from some countries, such as China, did not have the option to go home because of travel restrictions, and most had questions about the potential effect on their immigration status.
The initial response of the higher education community was to make sure that international students and scholars had a safe place to go. With campuses now closed, efforts have turned toward helping these students and scholars manage financial upheaval, remote learning, and social isolation amidst uncertainty for the future—and planning for how to best support international students this summer and fall.
Navigating Housing Logistics
When leadership at the College of William & Mary in Williamsburg, Virginia, made the decision to close their dorms, they had to figure out how to help the international students who would need to remain on campus. 
"We set up a housing resource website where the hundred or so international students who really didn't have the ability to return to their home countries, or to other locations in the United States, were able to find placements," says Steve Hanson, vice provost for international affairs and senior international officer at the College of William & Mary. The site included a mix of short-term rentals, hotels, and volunteers from the surrounding community who were willing to host students who had nowhere else to go. 
Some institutions have continued to allow international students to stay on campus, which requires close collaboration between the international office and residence life. For example, Emerson College in Boston currently has around 40 international students still living in its dorms.
"We're getting weekly updates from [residential] life, and we are in contact with those students pretty frequently to figure out whether it makes sense to have them continue to stay on campus," says Andrea Popa, director of the Office of International Student Affairs. "But Emerson has committed to making sure that we're providing a safe place for students to stay if this is the safest place they have [available]." 
Emerson also held a virtual meet up for international students living off campus, a population that presents different challenges when it comes to support. In Florida, UCF Global advocated for international students who live in their own apartments by encouraging landlords to allow the students to terminate their leases early so they could return to their home country. They also referred students to campus services, such as the Knights Helping Knights Pantry, a student-run pantry to provide basic needs to other students facing difficult circumstances. 
Meeting Financial Needs
For many international students, uncertainty around accommodations and anxieties about finances go hand in hand. In addition to making sure that the international students who remain have a safe place to stay, many institutions are helping them with unexpected expenses, whether due to sudden relocation—from a dorm to an off-campus apartment, for example—or other financial fallout.
The College of William & Mary's international office has been working with the university advancement fund to raise private funds for international students—which is especially important since international students were excluded from the emergency funding provided by the Coronavirus Aid, Relief, and Economic Security (CARES) Act passed by Congress at the end of March.
"The university advancement group has put the international student scholarship and emergency fund in a place of high prominence on our giving website, along with something called The Heart Fund, which is for students more generally in need," Hanson says. "We're already starting to see pretty significant donations coming in to support international students who may need a little extra support."
Similarly, Michigan State University (MSU) has been asking for donations to its International Student Emergency Fund, an existing pool of money set aside for international students to apply for help in times of financial distress. Many institutions' international offices administer similar funds.
"The challenge is that it's not going to be enough to meet all the need" due to the far-reaching effects of the pandemic, says Krista McCallum Beatty, director of MSU's Office for International Students and Scholars.
Many international students have also lost on-campus jobs, the sole type of employment they are allowed due to their immigration status. Emerson College has committed to paying all student workers for at least 7 hours per week through the end of the semester, according to Popa.
"We've also been able to add a few extra hours for our existing student staff to be in contact with the students on campus, do some marketing for our virtual events, and do some data statistics projects," she says. "International students have such limited employment options that we want to be sure that we're being a good employer too to the students [who] relied on us for campus jobs."
Communicating Is Key
During a time of such uncertainty, consistent communication is critical, especially to support international students. MSU's international office has gone from emailing one weekly newsletter to sending shorter, more targeted updates two or three times a week. They have also partnered with international student organizations on campus to help get messages out to students.
"The biggest thing we've been focusing on is really clear, consistent communication and getting accurate information out to students in a timely manner," Beatty says. "We've really been looking to the student leaders to help support other students."
She advises adding a timestamp to all communications during such rapidly changing circumstances, ensuring students are referencing the most up-to-date information.
Julie Anne Friend, director of Northwestern University's Office of Global Safety and Security, emphasizes the importance of tailoring information specifically to international students, rather than general communication to all students with a tie to the international office, which includes domestic students. "We have to be really thoughtful about the advice that we're giving and who we're giving it to."
Reaching out to Special Populations
Certain groups within the international student and scholar population who have specific needs could benefit from extra attention during this time. For example, MSU's Office for International Students and Scholars has partnered with the Student Parent Resource Center to make sure that international students, particularly graduate students, with dependent families are aware of available resources.
"Not only are [students with families] adjusting to doing their own academic work virtually, now they've got their kids home since all the schools in Michigan are closed," Beatty says.
In addition, Beatty's office is working with the Office of China Programs to hold daily virtual office hours with Mandarin speakers for parents of Chinese students at MSU to assuage fears and keep them informed. They plan to start similar programs for parents of Indian students, as well as sessions in English for parents of other international students.
Emerson has also held Zoom meetups for specific groups of international students, such as students who are still living on campus, students sheltering in their own apartments, students who have returned to their own countries, and students doing optional practical training (OPT).
Popa says that the OPT session was one of the most well attended. "I think that OPT students are particularly isolated in this time, because they are trying to work remotely and they are not in classes," she says. "I had been having individual appointments with many of the students, but for them to hear other people ask the same questions was reassuring."
Providing Social and Emotional Support
In addition to targeting specific student groups with information pertaining specifically to them, international offices can be an important source of social and emotional support for all international students. UCF Global hosted a Zoom workshop with the institution's Counseling and Psychological Services on managing stress in times of uncertainty.
"For many, this was a great opportunity to feel a sense of community to combat the loneliness and isolation of physical distancing," Khan says.
On the social side, University of Minnesota (UMN) has been holding virtual coffee hours in lieu of the weekly event it normally hosts. Alex Cleberg, an intercultural trainer at UMN's International Student and Scholar Services, says these coffee hours are an important way to help students stay connected. He says many international students are getting advice from parents to not leave their apartments at all, and others are alone in their apartments after their roommates have left.
"We have held Small World Coffee Hour regularly on Fridays for the past 27 years," says Cleberg. "It is an institution [that] students can rely on." To maintain consistency and encourage social interaction, virtual coffee hours are held at the same time and with the same format and themes. "Our regular participants all came, and we each showed each other the cups of coffee or tea we were drinking," he says. 
Preparing for Fall
With most support efforts now in place for international students through the remainder of this academic year, says Beatty, now is the time to start thinking about how best to support international students in the fall.
"What are their social or emotional needs going to be?" she asks, adding that she anticipates an increased need for mental health services for all students.
At MSU, Beatty has begun conversations about the need for campus police to work with the anti-bias team to prepare for any discrimination that might occur against international students when they return to campus. She also suggests coordinating with residence life to understand the anticipated housing options for the fall, especially if social distancing will continue.
"It's important to be proactive and make sure the people who need to be thinking about those [options] are thinking about those now," she says.
It is also the time to make sure international students stay on the radar of senior leadership, ensuring long-term support. 
"The biggest thing that I'm doing as a director is talking to people and advocating to make sure that as the university is making decisions, they're taking into consideration how a decision will affect international students," Beatty says.
Providing critical support for international students unable to return home, or who chose not to, will soon give way to planning for the summer and fall. Short-term decisions—even small ones, such as UCF taking the time to call every international student—will have long-term effects.  •
NAFSA Resources
Additional Resources
About International Educator
International Educator is NAFSA's flagship publication and has been published continually since 1990. As a record of the association and the field of international education, IE includes articles on a variety of topics, trends, and issues facing NAFSA members and their work. 
From in-depth features to interviews with thought leaders and columns tailored to NAFSA's knowledge communities, IE provides must-read context and analysis to those working around the globe to advance international education and exchange.
About NAFSA
NAFSA: Association of International Educators is the world's largest nonprofit association dedicated to international education and exchange. NAFSA's 10,000 members are located at more than 3,500 institutions worldwide, in over 150 countries.