Practice Area Column
Teaching, Learning, and Scholarship
The Missing Link in COIL
How a group in the Pacific Northwest can be a model for virtual exchange administrators to create communities of practice.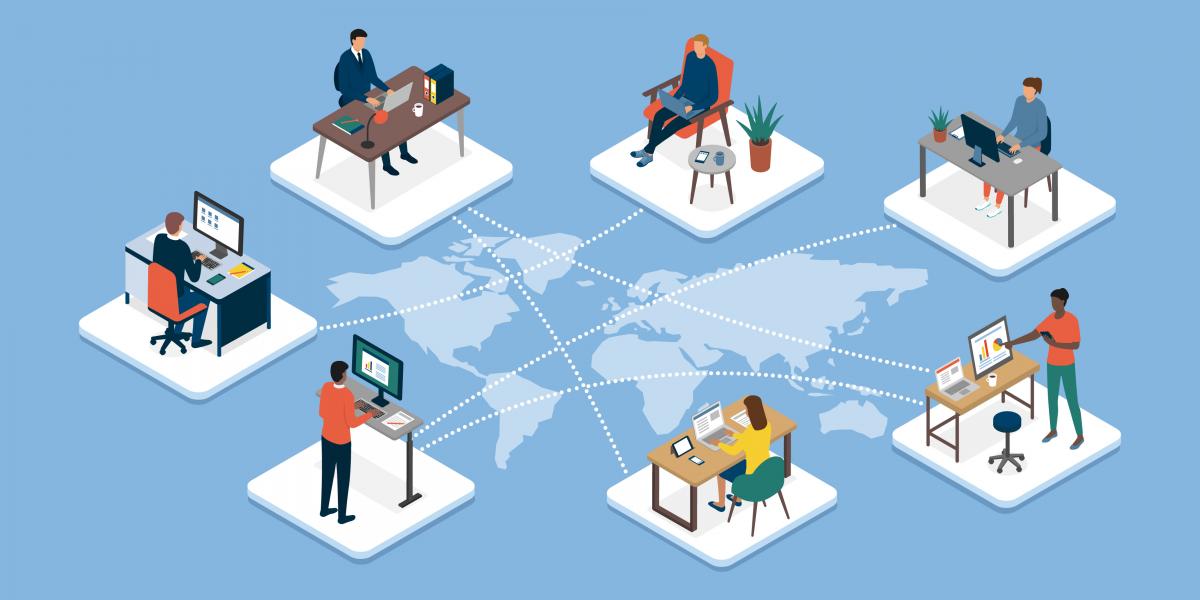 In November 2019, I was feeling jubilant. With my Portland State University (PSU) colleagues, I had just showcased PSU's inaugural COIL (Collaborative Online International Learning) courses to our provost, who was going to fund the COIL Scholars Program for a second year based on the program's strong start.  
While the launch was a celebratory milestone, it was clear that there would be hard work ahead if this success were to help lay a foundation for a thriving COIL program at PSU. I realized that I needed to draw on the collective and compound expertise of colleagues facing similar challenges in launching and sustaining COIL at their institutions. After I confided this to Greg Tuke, virtual exchange consultant at Going Global, he suggested we establish a regional group of COIL administrators from Oregon, Washington State, and British Columbia.  
The administrators had all met the month before in Tacoma, Washington, for the International Virtual Exchange Conference, and when COIL innovators Natalia Dyba and Cindy Schaarschmidt at the University of Washington signed on, the NW COIL Directors group was born. Our group—which now included founding members from Green River College, Langara College, and Seattle University in addition to those of us who had already started to move this forward—envisioned becoming a regional knowledge hub for faculty and administrators interested in virtual exchange (VE) and COIL.  
I realized that I needed to draw on the collective and compound expertise of colleagues facing similar challenges in launching and sustaining COIL at their institutions.
VE and COIL are emerging forms of intentional international engagement and learning using digital tools. COIL involves at least two partners in different geographic locations working together with mixed groups of students on a shared assignment or project over the course of 4 to 15 weeks. COIL has been adopted by higher education institutions that aim to offer more access, equity, and inclusion in global learning for their students and to prepare students to be digital professionals. As described in the June 2020 International Educator article "Virtual Exchange 101," COIL has been implemented at universities, in K–12 systems, and at nongovernmental organizations to offer alternatives to study abroad and opportunities to internationalize the curriculum. 
The Current State of COIL
Despite the fact that COIL strategies have been incubating at institutions for more than a decade and have received heightened attention during the global pandemic, they remain difficult to scale at institutions. The challenges are the complexity of implementation involving not only faculty and their students but also stakeholders from the teaching and learning center, information technology lab, and international office. 
Institutional silos that protect COIL while it is being launched later become hindrances when it is time to expand participation and resources of time and funding. The lack of a superstructure to shepherd and sustain COIL programming remains a problem and has gained the attention of external funders who see this structural impediment to scaling COIL. 
On the bright side, there are solutions to address specific dilemmas. For those struggling to find institutional or faculty partners, there are learning management platforms, such as ImmerseU, that are designed to match faculty and interface with a dominant learning management system (LMS) to support the course. For administrators trying to provide teaching and learning support to faculty, there are university systems, such as State University of New York (SUNY), that have opened their internal trainings and materials to external partners. For institutions that do not yet have the infrastructure to support COIL, seed funding is available through external funders. While these are effective solutions to specific challenges, more holistic and systemic approaches are required to scale and sustain COIL. 
Pandemic Pressures Highlight Need for COIL
Just a few months after we formed the NW COIL Directors group, COVID-19 hit. The pandemic heightened interest in COIL at our respective Pacific Northwest institutions, and the group welcomed the increased attention, cognizant of the window of opportunity to scale. We realized that the promise of COIL was in its ability to impact wide swathes of students; similarly, the peril could be not achieving a critical mass of impact quickly enough at our institutions before attention went elsewhere. This pressure, and the group members' desire to innovate and scale COIL more quickly in response to the pandemic, required new approaches and new relationships. 
We realized that the promise of COIL was in its ability to impact wide swathes of students; similarly, the peril could be not achieving a critical mass of impact quickly enough at our institutions before attention went elsewhere.
The NW COIL Directors knew we needed to create a "brain trust" around best practices and offer mutual support to each other around professional growth. The group wanted to crowd-source ideas, bring ideas forward, and connect our faculty across institutions. We also aimed to develop a community that would cooperate on grants, coauthor journal articles, and build networks dedicated to advancing COIL. 
Because of our geographic proximity, we could see each other and collaborate more frequently than the annual conference would allow, and this proximity also helped us shape a regional approach to virtual exchange, informed by our values around the open-access mission, cultural humility, climate action, indigenous voices and land recognition, and immigrant and refugee rights.  
The Missing Element
In the process, the NW COIL Directors group recognized a missing element that was essential to building up and sustaining COIL at institutions around the country and globe: a reciprocal community of thinkers and problem solvers who could crowdsource solutions over time to dilemmas they all were facing in different contexts. 
We called this community a "network of practice," which combined administrative experience and knowledge and repurposed the information for institutionally specific and collective needs. Unlike communities of practice that are often tied to a specific institution, discipline, or job title, the network of practice brings together a heterogenous group of course designers, senior international officers (SIOs), international partnership directors, teaching faculty, and intercultural trainers from different institutions and countries. What they share is their responsibility for administrative support or oversight of COIL at their individual institutions. 
Such networks of practice support COIL administrators wherever their respective institutions sit on the implementation spectrum. This is an example of new power and new professionalism, which is open, participatory, and peer driven. Within the first year of our group's formation, additional SIOs, course designers, faculty, and education abroad directors from Seattle Pacific University, Western Washington University, and Central Washington University had joined the NW COIL Directors group.
The way administrators of COIL network with one another is a critical component for scaling up COIL. What is obvious but often overlooked is the role of the COIL coordinator as innovator and change agent around virtual exchange in the university ecosystem. COIL is an education innovation that is highly dependent on the knowledge, skills, and problem-solving abilities of its administrators. 
As our NW COIL Directors group realized as we moved through the early months of the pandemic together, a network of practice can be the successful missing link for sustaining and growing COIL at individual institutions.  •
About International Educator
International Educator is NAFSA's flagship publication and has been published continually since 1990. As a record of the association and the field of international education, IE includes articles on a variety of topics, trends, and issues facing NAFSA members and their work. 
From in-depth features to interviews with thought leaders and columns tailored to NAFSA's knowledge communities, IE provides must-read context and analysis to those working around the globe to advance international education and exchange.
About NAFSA
NAFSA: Association of International Educators is the world's largest nonprofit association dedicated to international education and exchange. NAFSA's 10,000 members are located at more than 3,500 institutions worldwide, in over 150 countries.