The Upstarts
A handful of private institutions in India are shaking up the country's higher education landscape.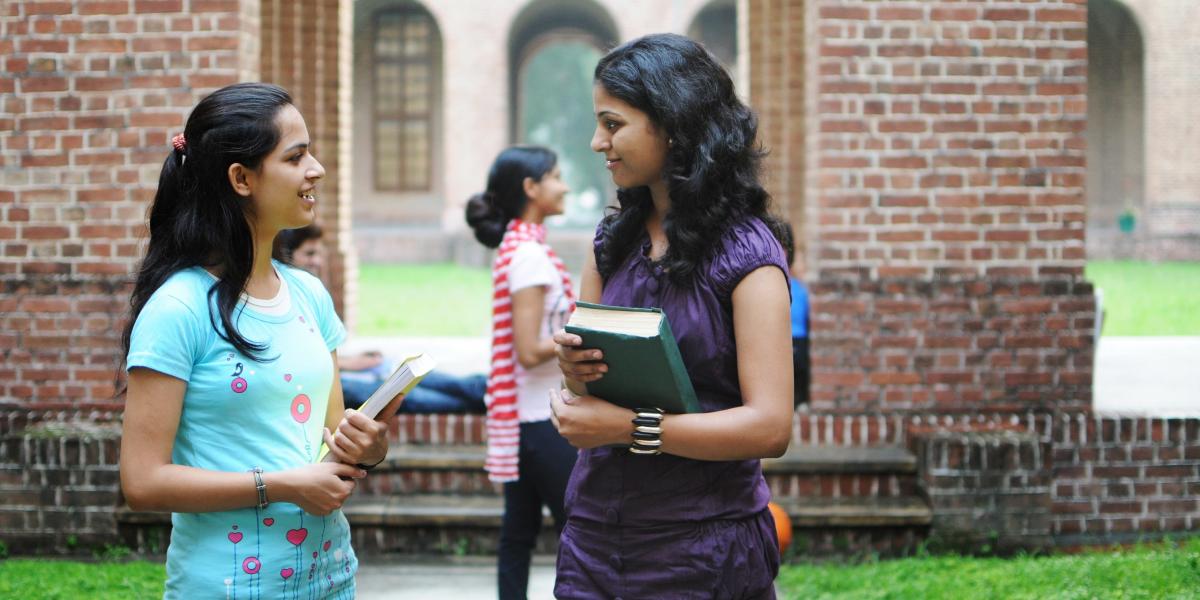 Most Indian higher education institutions face enormous challenges of funding, bureaucracy, and capacity that keep India from becoming a top destination country for international students. But a number of private institutions—many recently founded by, or with support from, Indian corporate leaders and other luminaries—provide an interesting alternative for domestic students by successfully addressing some of those challenges.
"The new private universities of India are trying to experiment with new ways of educating the next generation of youth in India through liberal education," says Pankaj Chandra, vice chancellor of Ahmedabad University.
The stories of three institutions illustrate how these upstarts have charted new waters in Indian higher education and what the implications may be for international education in India.
O.P. Jindal Global University: One Man's Vision
O.P. Jindal Global University (JGU) is one of the new breed. The university, located in the city of Sonipat in northern India, opened in 2009, with 10 faculty, 100 students, one law school, and 34-year-old Raj Kumar as its vice chancellor. Little more than a decade later, the university has 8,000 students, 900 faculty, and a fully residential campus of nearly 100 acres.
Recent high points for the university include, in 2016, receiving an A rating from India's National Accreditation and Assessment Council (NAAC) and, in 2019, recognition by the government of India as an Indian "Institution of Eminence," a distinction accorded to fewer than 20 Indian higher education institutions.
The Genesis
In some cases, setting up the universities has come down to the drive of a single figure. In JGU's case, that person was C. Raj Kumar, says Ramaswamy Sudarshan, dean of the Jindal School of Government and Public Policy (JSGP) at JGU.
Kumar was a Rhodes Scholar in 1998 who went on to law school at Harvard. With a long-term goal of creating a world-class university in India, he left his job at a New York law firm to teach at New York University.
In 2006, pieces of Kumar's dream began to fall into place as Sudarshan helped arrange and convene a conference on access to justice in India that featured deans of three U.S. law schools and India's law minister, H. R. Bhardwaj. Bharadwaj introduced Kumar to a member of the family of O. P. Jindal, a wealthy Indian steel magnate and minister of power in the state of Haryana. The Jindal family eventually agreed to Kumar's request for a grant of $100 million, the autonomy to establish and run a university, and a guarantee of full academic freedom.
What Sets It Apart
Sudarshan says that JGU is notable for its global and flexible structure. "The mission of the university is to be truly global in faculty, students, curriculum, and culture. More than 20 percent of its faculty are non-Indian nationals," notes Sudarshan. "The high quality of staff, most of whom have qualifications from the world's top 100 institutions, is also unusual, as is an unusually flexible curriculum for students, with cross-listed courses taught in the afternoon after core courses in the morning, that can be taken by students across any of the JGU's schools."
The speed of JGU's expansion is also noteworthy. Its rapid growth is on track to continue, as administrators plan to expand to 17 schools and 17,000 students by 2033.
JGU's ability to innovate and expand will be facilitated by its designation as an Institution of Eminence, Sudarshan says. "No money comes from designation as an Institution of Eminence, but the benefit is that it will liberate us from the regulatory bodies, including the University Grants Commission, the Bar Council, and Architecture Council, by enabling us to have the autonomy to be able to design our own degree programs."
Connections to International Education
International partnerships with other institutions are an important part of JGU's growth strategy, Sudarshan says. "Most of the over 250 memoranda of understanding we have with universities overseas are substantive, with student and faculty exchanges, immersion programs, joint publications, research projects, and joint conferences," he notes. "JGU regularly hosts Fulbright Fellows and Scholars."
Ahmedabad University: Changing the Landscape
Another of the new class of universities is Ahmedabad University, located in Ahmedabad, the largest city of the western Indian state of Gujarat. Founded in 2009 by the Ahmedabad Education Society (AES), a regional association dedicated to fostering learning initiatives, it has significantly expanded access to higher education for students in Gujarat.
The Genesis
"AES was set up at the behest of Sardar Vallabhbhai Patel, one of the most significant leaders of the Indian independence movement and the first deputy prime minister and the home minister," says Pankaj Chandra, vice chancellor of Ahmedabad University. AES built a series of institutions, culminating in Ahmedabad University, that transformed the education landscape of the state.
"Prior to the founding of colleges by AES, Ahmedabad had only one undergraduate college (Gujarat College), and young people had to travel to Baroda or Bombay to get higher education," Chandra says. "AES and its founders were directly or indirectly responsible for the establishment of the academic infrastructure of Ahmedabad including providing land and funds."
AES created both public and private institutions that specialize in a range of subjects, including accounting, arts and sciences, pharmacy, design, and engineering. "It was a rare display of public spiritedness—supporting the establishment of public institutions by a private trust," says Chandra. "Many of the institutions are amongst India's best in their fields."
Ahmedabad University was the most ambitious project of AES: a comprehensive, liberal-education-driven research university. It was an ambitious undertaking at a time when some of the public and private universities in Gujarat fell short of national standards, Chandra notes. Ahmedabad is comprised of four self-financing colleges covering commerce, business administration, management, and computer studies.
What Sets It Apart
Like JGU, Ahmedabad University distinguishes itself from many Indian higher education institutions in part by its low student-to-teacher ratio. In 2021–22, the institution had a total faculty of 163 full-time faculty, and 45 adjunct faculty from all over India and the world. These faculty members served 3,074 total students, including undergraduate, graduate, and PhD students.
Several other factors set Ahmedabad apart from its peers, particularly its emphasis on diversity.
"We decided that the university will have to be diverse in its demographics and social character," Chandra says. "In addition to geographical diversity, the most important diversity comes from a socially diverse student body: kids that went to the best of schools to those that went to very average government schools but were highly talented; those that came from affluent families and those whose parents lived in extreme poverty; those that were urban and those that were rural; and those that went to English medium schools to those that went to vernacular medium schools (schools where teaching happens in the local language, not English). Our philosophy was that education should make students elite, and not their social background. We decided to consciously bring in first-time learners. The university actively searches for talented students from the underserved communities."
Achieving such diversity has presented significant challenges and required creative solutions. Chandra and other leaders redesigned the educational structure at Ahmedabad to increase equity and opportunity, with a goal of increasing every student's chance of success. In addition to building a strong bridge program, keeping fees low has been a key aspect in expanding access for potential students.
"[We are] keeping fees low so as to enable the brightest amongst the poorest to not be afraid to apply, which was also facilitated by a large endowment that AES built for the university, perhaps one of the largest in India," says Chandra. "[We also] provide a powerful financial aid program especially for those who could not afford education, including scholarships for free boarding and lodging."
The relatively small size of the university fosters the more flexible and customized style of instruction that is necessary to serve such a diverse student base, Chandra says. "The cornerstone of our very student-centric teaching and learning environment was our articulation that each learner and their context was different, their learning endowments were different (even though they were adjacent), and their aspirations were different—hence we had to try to customize their experience and education as much as possible."
Connections to International Education
When AES leaders tapped Chandra to lead the institution in 2015, it was with a clear mandate "to build a truly global and serious academic centre in Ahmedabad University," he says. "I created a 15-year plan and got the support of the board. We built a leadership team comprising some of the most accomplished academics in India and those that had studied and taught at some of the best institutions in India and the world."
Ahmedabad has also invested heavily in research, investing in a doctoral program and a six-year tenure system. The institution provides internal funding for faculty and also encourages them to pursue global funding for research.
Manipal Academy of Higher Education: Interdisciplinary Excellence
Though it's one of the older and more established private institutions in India, Manipal Academy of Higher Education's (MAHE) international collaborations and high rankings make it an example that newer institutions can follow.
Also recognized as an Institution of Eminence, MAHE was founded by a physician, the late Tonse Madhav Ananth Pai, who had the vision of ridding society of ill health, illiteracy, and impoverishment, says Raghu Radhakrishnan, director of international collaborations at MAHE, Manipal, which is located in the southwest Indian state of Karnataka.
The Genesis
In 1953, Pai opened the country's first private medical college, Kasturba Medical College. He started several other institutions in subsequent years, all of which were brought under the umbrella of MAHE in 1993. Among the university's standout constituent institutions is Manipal Institute of Technology, whose alumni include Satya Nadella, CEO of Microsoft, and Rajeev Suri, CEO of Nokia. Pai's son, Ramdas Pai, is now the chancellor of MAHE, and his grandson, Ranjan Pai, is chairman of the Manipal Education and Medical Group, a corporate holding entity that focuses on education, health care, and research.
In the Ministry of Education's National Institutional Ranking Framework 2021 rankings, MAHE was ranked seventh and recognized as one of the top 10 universities in India. Many of its 23 constituent schools and 277 programs are highly ranked, as well. The university serves approximately 28,000 students and employs more than 2,900 faculty members.
What Sets It Apart
Collaborations like the Manipal-Government of Karnataka Bioincubator bring disciplines and partners together. Established at Manipal in January 2019, the Bioincubator is a joint venture between MAHE and Karnataka Biotechnology and Information Technology Services. It provides facilities, infrastructure, and services to startups in various domains, such as biopharma, biomedical devices, dental innovation, biotechnology, health care, and diagnostics.
While expanding its research efforts, MAHE has found that locating different scientific disciplines on a single campus has paved the way for interdisciplinary research, Radhakrishnan says. Manipal School of Life Sciences houses facilities for genome engineering, genetics, molecular and cell biology, biochemistry, bioinformatics, and biophysics, and MAHE has centralized research facilities for a variety of scientific disciplines.
Radhakrishnan attributes the success of the constituent units of MAHE to innovative pedagogic practices. "MAHE's willingness to adopt innovative pedagogies is [demonstrated] by the presence of a dedicated facility for improved teaching and methods," says Radhakrishnan. Regular teacher training programs for pedagogic effectiveness are conducted throughout the year for new and existing faculty.
Connections to International Education
MAHE's student body includes students from 57 different countries, and MAHE has been expanding internationally since 1994—first in Nepal, then Malaysia. The institution also has a campus in Dubai, which offers courses ranging from biotechnology to fashion design.
Private Universities in Context
So where exactly do the private institutions such as JGU, Ahmedabad University, and MAHE fit in the Indian higher education ecosystem? With their emphasis on innovation, quality, and research, they're potential models for public universities and harbingers of what's to come in India's tertiary education sector.
About International Educator
International Educator is NAFSA's flagship publication and has been published continually since 1990. As a record of the association and the field of international education, IE includes articles on a variety of topics, trends, and issues facing NAFSA members and their work. 
From in-depth features to interviews with thought leaders and columns tailored to NAFSA's knowledge communities, IE provides must-read context and analysis to those working around the globe to advance international education and exchange.
About NAFSA
NAFSA: Association of International Educators is the world's largest nonprofit association dedicated to international education and exchange. NAFSA serves the needs of more than 10,000 members and international educators worldwide at more than 3,500 institutions, in over 150 countries.
NAFSA membership provides you with unmatched access to best-in-class programs, critical updates, and resources to professionalize your practice. Members gain unrivaled opportunities to partner with experienced international education leaders.