Reflections on the NAFSA IE Competencies: Business Acumen 
Why business acumen is a critical competency now and in NAFSA's next chapter.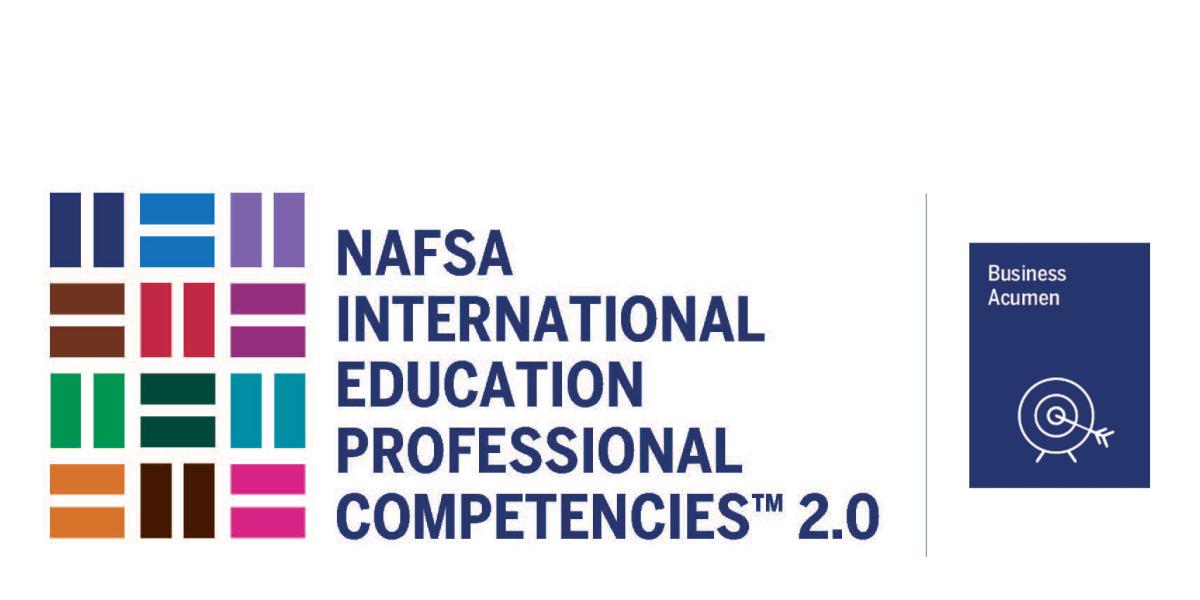 Editor's note: This article is one in a new series for 2023 that explores one of the 12 International Education Professional Competencies 2.0 in each issue of International Educator. Each written by a NAFSA member, the articles cover how that competency is critical to the future of the field and what it looks like in practice.
Higher education is big business. Institutions in the United States spent over $670 billion on higher education during the 2019–20 academic year. As international educators, we contribute to and benefit from that enterprise, and strong business acumen skills are critical to supporting our institutions and students.
Recognizing this dynamic, NAFSA highlighted business acumen as an International Education Professional Competency in 2022. Business acumen focuses on the planning, financial, and legal components of international education. It also includes grant writing, fundraising, and project management. These elements of our work expand the capacity and sustainability of international education, and as I reflect on the role of business acumen in my career, there are three important things international educators should know about these skills.
1. Business acumen isn't my favorite part of international education—but it's foundational to our work.
 Like most international educators, I don't get excited about managing budgets or negotiating contracts, but business activities are a foundational part of my work. From building program budgets to recruiting international students, business acumen is often the starting point for implementing new ideas and projects. Equally important, when I leverage successful business practices, I can focus on the real goal of my work: delivering impactful intercultural experiences to students, scholars, and the campus community.
2. Strong business acumen creates opportunities to earn trust.
In my experience, savvy international educators align their programs and resources with broader institutional goals. Throughout my career, I've used this strategy to show leadership that I am a team player and to demonstrate good financial stewardship. Over time, this fostered trust between institutional leaders and my team. It also often elevated the profile of our programs and created opportunities for new campus partnerships. By leveraging strong business acumen, I increased buy-in from leadership and gained new resources to support my students.
3. The future of international education may depend on business acumen.
As budgets shrink and demographics change, the competition for enrollment will continue to grow in higher education. When these factors are combined with workforce disruption, legislative changes, and the expanding role of technology, the future of institutional finance is unpredictable. But effective business acumen positions international educators to lead in this landscape. Through balanced budgets, collaboration with leadership, and innovative revenue streams, I have used business acumen to help my universities solve complex institutional challenges, and as higher education changes, the role of business acumen in my work will grow. 
Business acumen is not my favorite part of international education, and it often seems like a distraction from the teaching and learning that motivates me to work in this field. But business acumen is the pathway through which my team has thrived over the years. By developing business acumen skills, international educators can create efficiency, empower decision-making, and foster trust.  I leverage these skills every day to build new opportunities for my students.  •
---
Beth M. Laux, EdD, is the president and CEO of Quest Cultural Solutions, where she oversees temporary staffing, project management, research, and consulting services for international education.
NAFSA Resources
About International Educator
International Educator is NAFSA's flagship publication and has been published continually since 1990. As a record of the association and the field of international education, IE includes articles on a variety of topics, trends, and issues facing NAFSA members and their work. 
From in-depth features to interviews with thought leaders and columns tailored to NAFSA's knowledge communities, IE provides must-read context and analysis to those working around the globe to advance international education and exchange.
About NAFSA
NAFSA: Association of International Educators is the world's largest nonprofit association dedicated to international education and exchange. NAFSA serves the needs of more than 10,000 members and international educators worldwide at more than 3,500 institutions, in over 150 countries.
NAFSA membership provides you with unmatched access to best-in-class programs, critical updates, and resources to professionalize your practice. Members gain unrivaled opportunities to partner with experienced international education leaders.