E. Gordon Gee: Embracing Internationalization
"Cultural diversity is one of the most important kinds of experiences we can provide for all of our students," says Gee.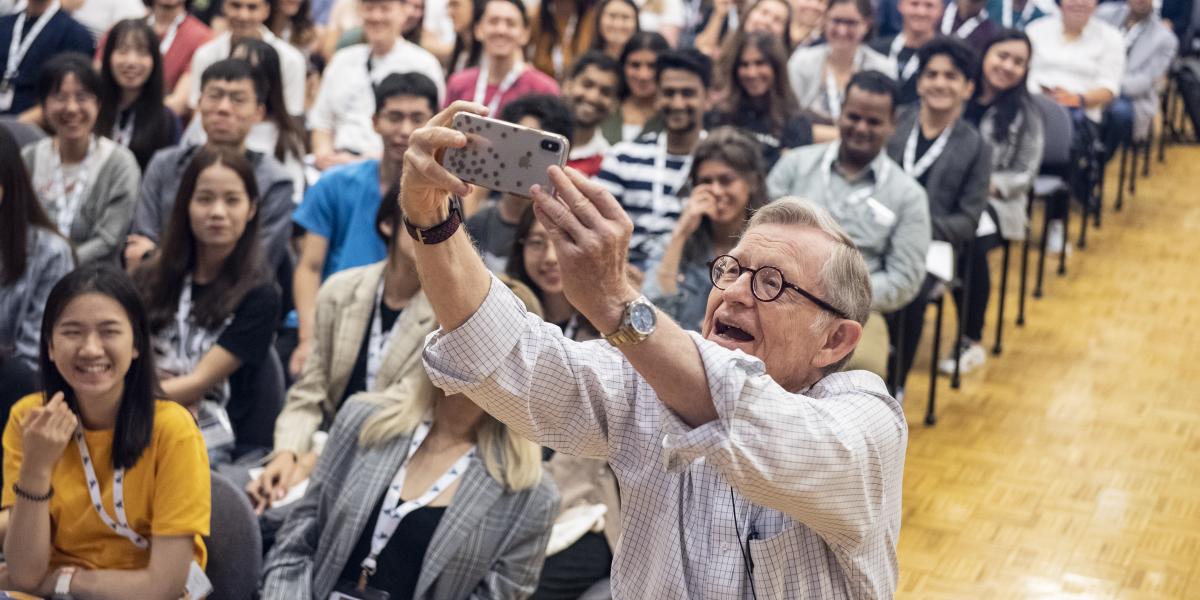 E. Gordon Gee is nationally recognized as a leader in higher education and currently serving his second term as president at West Virginia University (WVU), which won the 2019 Simon Award for Comprehensive Campus Internationalization. Since he first came to WVU in 1980, Gee has also served as president of University of Colorado, Brown University, Vanderbilt University, and twice at Ohio State University. In 2009, he was named one of the top 10 university presidents in the United States by Time magazine. He returned to WVU in 2014.
At WVU, Gee has supported internationalization initiatives, including expanding the university's presence in the Middle East. During his tenure, the institution has also established global portals, which he describes as "academic embassies" where partner institutions host a physical presence for WVU to deepen engagement in the region.
You started your career at WVU in 1980 as the youngest university president at the time. You've come full circle and returned to WVU as president for in 2014. Can you talk about your long history with at the university?
WVU has always felt like my spiritual home. I say that having loved every institution I've served, but I think you always love the place that loved you first. I was 36 [when I first became the university's president]. If you can imagine having a 36 year-old become a university president, that was a major risk that [the institution] took. And for that I'm grateful. And as I joke, after nearly 40 years I've come back to correct all the mistakes I made the first time around.
This is where my daughter really was, in many ways, the happiest. She was young when I became president of the university and she really had a great group of friends here. When I called her up and told her that I'd been offered the opportunity to come back, the first thing she said to me was, "Well, go home, Dad," which I thought was a wonderful statement about where we are. And a lot of the people love the mission of the university. This is a state that has many challenges, and the university [represents] the hopes and dreams of the state.
You have a strong commitment to internationalization. Where does that come from? How was it informed by your own international experiences?
I am a devout Mormon, [and] I spent 3 years in southern Germany on a Mormon mission. As you can imagine, that greatly impacted me. And that was in the early 1960s, just less than 20 years after World War II had ended. I learned two foreign languages: both German and Italian, because the church wanted to start an Italian mission also. All of that early experience living in a foreign land, speaking a foreign language, getting fully engaged in the culture of the place, [and] living among folks was a very formative time for me. And it remains with me now.
Then obviously once I became a university president, [there was a lot of] traveling and engaging with people. I have a strong view that cultural diversity is one of the most important kinds of experiences we can provide for all of our students. If I were king for a day, I would do two things. One, I would require every student at my university to have a passport before they joined us. And second, I would staple a green card to the diploma of every international student that crossed the stage. I'm just a strong believer in that kind of a coterminous relationship on a global scale.
How can people of diverse political and religious beliefs come together in promoting international education and cultural exchange?
First of all, let me just say that I think we have to. I think we have very little choice, because the world is so small. Every small issue has an impact that is global.
Number two, I think that universities are maybe the best place for these kinds of conversations to take place and for these kinds of relationships to be built. Because in actuality, universities should be very safe places where conversations about differences can be held and views [can] be expressed. I am fearful that many of the American universities have lost their ability to call themselves universities, because they have started to limit the freedom of ideas, freedom of speech, and freedom of inquiry that they should allow.
I think that's one of the challenges that we face. But we should be that place in which these conversations can be held, and therefore where these different viewpoints and different people should be able to come together.
Can you talk a little bit about WVU's deep engagement in the Middle East and your relationship with the Royal University for Women (RUW) in Bahrain?
We've always had a large contingent of students from the Middle East, because of the fact that we have one of the premier petroleum engineering programs in the country. A large number of the leadership in Saudi Aramco [the Saudi national oil and gas company] are West Virginia University graduates. So there was that natural tie; we had a presence there, we had educated a number of people [from the region], and we have a strong contingent of West Virginia graduates in the Middle East.
The Royal University for Women is a unique institution through which we can build a global portal. I'm a very strong believer that when institutions build campuses overseas, in many ways that's cultural imperialism. I think that there has been more failure than success in that regard. When I came [back to WVU] I said, "Where are areas in which we can be uniquely positioned to have an outside role in either that part of the world or in a relationship with likeminded institutions?" That could be something in which we can really make progress and [collaborate on] programs together.
I'm actually on the board of RUW, so that shows how deeply committed the university is. It happened to be through the Al-Zamil family, of which three of the brothers [studied] here during my first tenure. We became very fast friends. They had a large number of daughters, and they decided that they wanted to build a university that was royally chartered, the only one of its kind in the Middle East, to really focus on the empowerment of young women. [It was] a great opportunity for our university.
Are there any particular highlights of trips that you've been able to take in the capacity as president of WVU or other institutions?
My number one trip has been to the Middle East. I hadn't spent a lot of time in the Middle East before I came here. Coming to Bahrain and having the opportunity to see the culture and the structure of religion and family in one place, in a way that I'd never probably be able to see it in any other given experience, [was] pretty exciting to me.
I've been to China a number of times, not as president of West Virginia University, but as a university president. So I understand what we're trying to do there. And then we're taking a look at some other kinds of things. For example, we have a startup program here and we want to take a look at Station F in France, where they had built a big startup culture. We're looking at some one-offs too. It's not just simply about the portal, it's about finding really interesting projects in which we can be partners or engage and learn from them.
What do you see as the role of university presidents in promoting internationalization on campus?
I think that unless the university president is engaged in and believes in the internationalization of the institution, [the university] will not necessarily have the ability to be able to flourish as it should. International leadership comes from the top in many ways, because you'll have faculty who will travel extensively for reasons specific to what they are doing, but not necessarily specific to the university's ability to be able to compete on a much larger scale. University presidents, I hope, play a critical role. But I certainly think that in this arena, [presidents'] leadership is absolutely essential.
It's a very important component of what a university should be about. Not every institution should be as internationally focused as we are, but for us with this small state, with all of the challenges, we have an opportunity to find a global reach. It is important for the state, as well the university, because we're really synonymous in many ways.
What advice do you have for international educators and senior international officers on how to work effectively with their president or chancellor in internationalization efforts?
Don't take no for an answer. Insist that the president travels with you; insist that the president understands exactly what you're doing. Have a continuing conversation and bring people by who are visiting the institution. Just make certain that any president understands the power of the global effort you're trying to make. Because if you hide away from it, if you hide under a bushel, if you simply don't insist that your president get involved, they won't.
How can internationalization efforts at institutions affect the local communities in which colleges and universities are located?
We just had an international day in downtown Morgantown, where all of our students from various parts of the world—we have students from 118 countries—were putting on displays [for the community]. We do a number of things like that to make sure that our community understands both the importance and the impact, but also the cultural resonance, that comes from having people from so many places in this small community.
When I was at Ohio State, Columbus is a big city, so you couldn't quite get the impact of an international community. But here, it's very much on our front doorstep. And therefore you do one of two things: you isolate it or you embrace it. And embracing it is absolutely critical to where we are as a university.
What do you think are the next challenges that U.S. higher education will face?
We have tremendous challenges in terms of the role of the United States in the world right now. And I think that that will impact where we are, number one. Number two, there is tremendous competition. Australia, the United Kingdom, and others are really making a very strong case and a very strong play for students from other parts of the world to come and spend the time at those institutions in their country.
We need to understand that we're not the only player. For many years, people's first choice was to come to the United States. That may or may not now be the choice in terms of making our case for international relations with people around the world.
What kind of qualities do you think international education leaders need to cultivate in order to meet all of those challenges that you just mentioned?
I think you need to be aware of the challenges, but I think you should not be afraid. We should not be afraid to go to parts of the world that may seem a little peculiar at the moment. We shouldn't be afraid to go to China. We shouldn't be afraid to carry our flag anywhere. Fear is not good for internationalization.
The second thing is that we need to make certain that we carry two flags or three flags in this instance. At our university, we carry the flag of our country, we carry the flag of our state, and we carry the flag of our university. And we try to make sure that in doing that, we're really representing the best of what we have to offer as a nation, state, and university. We have to be very cognizant that we are ambassadors, however we are doing our work.
What is next for internationalization at WVU?
Expanding our global portals and then taking a look at some creative programs, one-of-a-kind programs. Obviously we're right in the middle with the RUW, taking a look at how we can even further strengthen, in a broad-based way, our relationship with that particular institution. We'll continue to expand our portals in the right way, and we'll continue to take a look at significant opportunities that may present themselves, but not too many. I want to make sure that what we do, we do it well.
The point with our global strategy is this that we're not going to compete, we're going to collaborate. And we're going to find places in which we can be a net contributor, but also in which we're uniquely qualified in being able to be that kind of a partner.  •
About International Educator
International Educator is NAFSA's flagship publication and has been published continually since 1990. As a record of the association and the field of international education, IE includes articles on a variety of topics, trends, and issues facing NAFSA members and their work. 
From in-depth features to interviews with thought leaders and columns tailored to NAFSA's knowledge communities, IE provides must-read context and analysis to those working around the globe to advance international education and exchange.
About NAFSA
NAFSA: Association of International Educators is the world's largest nonprofit association dedicated to international education and exchange. NAFSA's 10,000 members are located at more than 3,500 institutions worldwide, in over 150 countries.