Evon Peter: Championing Native and Indigenous Programs
At the University of Alaska-Fairbanks, a deep commitment to Alaska Native and indigenous peoples manifests in many ways, from preserving languages to an international partnership around reindeer husbandry.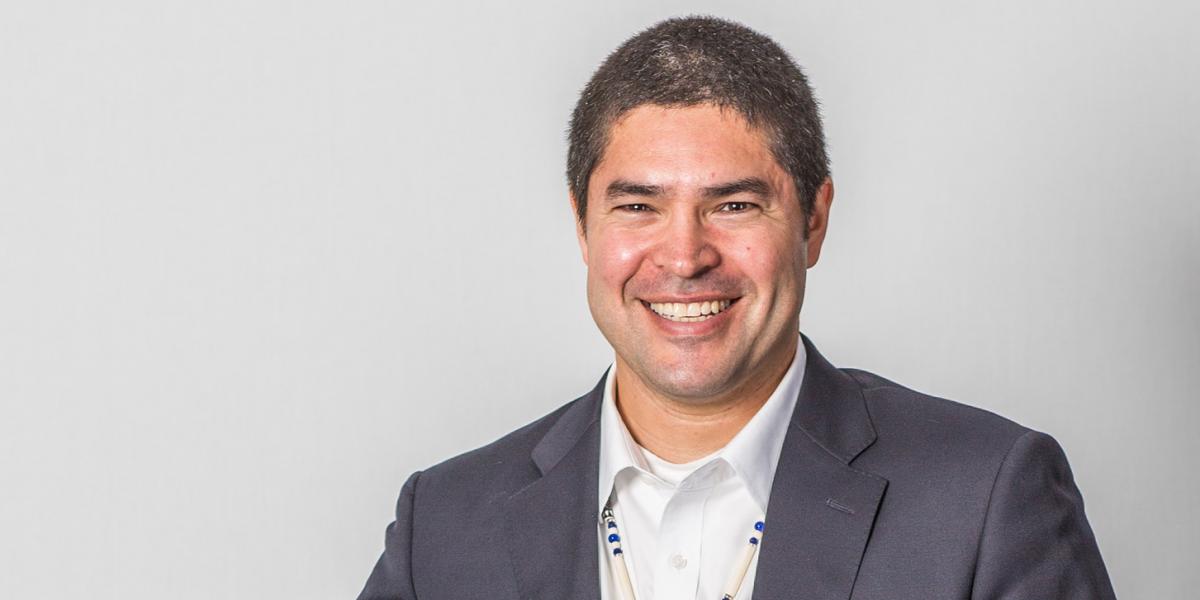 As vice chancellor for rural, community, and Native education at the University of Alaska-Fairbanks (UAF), Evon Peter oversees UAF's portfolio of programs focused on Native and indigenous studies as well as support services for Native and rural students. 
Peter first came to UAF as a student in the early 1990s from Arctic Village (Vashrąįį K'ǫǫ) in northern Alaska and is now a core member of the institution's leadership team. A member of the Gwich'in tribe, he was the first generation of his family to mainly speak English. Peter's engagement in international networks and collaboration includes the Arctic Council, University of the Arctic, and the World Indigenous Peoples Conference on Education. 
Peter spoke with International Educator about UAF's quest to become a global leader in Alaska Native and indigenous programs at a time of state budget cuts for higher education, how UAF is documenting and revitalizing indigenous languages, and the need to promote indigenous leadership in the circumpolar North. 
UAF has a dedicated commitment to Alaska Native and indigenous programs. Can you tell us about how that intersects with global programs at the university?
One of our chancellor's top priorities is to solidify global leadership in Alaska Native and indigenous programs. He's recognized the importance of the set of programs we've developed over the last 4 decades that has focused on indigenous studies and Alaska Native student support and success. 
We are the largest producer of Arctic research in the world, as far as publications and citations. While we've been facing some [budget] reductions to date, our capacity and the vision of what's driven us to the point that we're at right now as a world-class research institution is continuing to grow. We're going to continue to grow our research portfolio, which also includes programs such as our Center for Alaska Native Health Research. 
We just submitted a $100 million proposal to the MacArthur Foundation's 100&Change competition to launch a global center for applied indigenous knowledge. Even in the midst of the volatility and uncertainty related to our state government and its budget allocation to the University of Alaska, we feel that what we have to offer is really important. Not only in Alaska or nationally, but also globally. 
What is the starting point for bringing together indigenous peoples from across the globe?
I reached out to leading indigenous scholars globally, [including] Maori from New Zealand, Native Hawaiian, [those from] the midwestern United States, and the Sami community in Finland. We'll also be working with someone from Northern Canada, from the Inuit community. 
Even though we're different indigenous nations, there's a common base of knowledge and understanding around some of the types of experiences that we've had as indigenous peoples. In the circumpolar North, or in North America or in the Polynesian islands, we have some elements of shared history there with the way colonization occurred.
We are bridging out to leading indigenous scholars and thought leaders, in particular in the Pacific, in North America, and in the circumpolar North. Those are the three regions where we have currently in place the strongest sets of relationships.
UAF is also committed to preserving and documenting indigenous languages. Why is that a priority?
[Around the world], we're on the cusp of losing 6,000 indigenous languages in the next 50 to 100 years. Alaska is no exception. We have 20 indigenous languages. We have had the last speaker of one language already pass—the Eyak language. We're down to one speaker for one of the other 20 languages. The other 18 [languages are] at an extreme high risk. Even the most prominently spoken language—the Yup'ik community, which has the highest population of indigenous people [in Alaska]—is on the decline. 
We're in that moment, not necessarily for Yup'ik, but for many of the other languages, where the youngest speakers are in their 50s and older. If we want first-language speakers to be involved in the work to revitalize the language, and if we want to make sure we have had an extensive level of documentation complete, now is the time to be doing that. 
In what ways do Native students contribute to the cultural diversity on college campuses? 
When we talk about global leadership in indigenous programs, [another element] is indigenous student success. People in the United States don't realize that there are indigenous peoples who grow up with a very different worldview, and that's the experience for a lot of our Alaska Native students when they come to these Western universities. I think that's why the programs we offer are so important, because they are run by people who know what it's like to walk into a different culture, into a completely different space, from a small, remote, indigenous community.
[From] a political science perspective, it is international relations when an indigenous citizen from the Gwich'in nation, where I'm from, comes to the University of Alaska, which is very much a Western bureaucratic system and framework. It's built off of the tenets of the mainstream U.S. culture, worldview, and experience. 
For somebody who grows up within the context of the Gwich'in nation—'nation' being defined as a distinct land base, history, culture, social structure, and language—it's very much a culture shock. And certainly for a lot of our students who grew up in remote indigenous nations in Alaska, it is a shift in worldview, and just a different way of relating to people around you and the land that you're on.
How can college campuses better support and celebrate this cultural diversity?
Within the institution, I think it's really important for us to recognize and acknowledge [this shift]. There are different ways to do that. Historically in the United States, the push was for making indigenous peoples go away and become invisible. There were a lot of the assimilative practices that were enforced and carried out in my own parents' generation and certainly in higher education. 
Within most universities and colleges, there was active discrimination against Native students even coming to the institutions, if not specifically being discouraged from certain types of degrees and programs. There had to be a major shift in the attitude, operations, and structures within colleges and universities in order to reverse those practices. 
How does that look at UAF?
We've had 50 years of increasingly conscious effort to make changes and to do things differently. We acknowledge and recognize indigenous nations, and [it's] through things like land acknowledgement and a required Alaska Native themed course for all students of all degree programs. Because if you're going to go to school in Alaska, you should know about the indigenous peoples of Alaska and some of the history and context and culture of who we are.
The other thing we're doing in the spring is a required training for all new employees on Alaska Native cultural professional development, because a lot of the opinions and ideas of treatment and understanding about Alaska Native peoples come through faculty and staff. It makes a lot of sense for them to minimally have a broad base of understanding about federally recognized tribes and some of the history of assimilation. 
We want to demystify what it means to be an indigenous person and what it means to have indigenous nations students within the structure of [our university]. 
Are there any international partnerships that stem from Alaska Native and indigenous programs at UAF?
We have an interesting partnership between one of our rural campuses, UAF's Northwest Campus in Nome, and the Sami Education Institute in Finland. We actually share a faculty member, Jackie Hrabok-Leppajarvi. She spends half the year in Nome and half the year in Finland. 
She's focused on reindeer husbandry, so the program is called the High Latitude Range Management Certificate Program. It looks at reindeer husbandry as a way of life and an economically viable foundation for the survival and thriving of indigenous peoples in the circumpolar North who practice reindeer husbandry. 
That program is training and working with students in both areas, helping to inform each other about what their practices are. Our students fly over there [to Finland] and go to some of their processing facilities and learn how they process reindeer amongst Sami people. [The program looks] at questions like, what would it really take for us to turn the reindeer herds that we have in Alaska into a viable economic foundation for some of the communities and people? That's just another example of some of this international partnership and the work that we're engaged in through UAF. 
Can you talk about your work in promoting indigenous leadership in higher education, specifically your role as a board member at the University of the Arctic (UArctic)?
I believe there needs to be circumpolar indigenous representation at the highest levels in higher education institutions and associations. In this case, University of the Arctic is focused on the global circumpolar North. [Editor's note: UArctic is a cooperative network of universities, colleges, research institutes, and other organizations concerned with education. Members include institutions from Canada, Denmark, the Faroe Islands, Finland, Greenland, Iceland, Norway, Russia, Sweden, and the United States.] 
It's critical to have high-level indigenous voices within that arena. We're still not yet at the stage where we have very many indigenous peoples in senior leadership levels in higher education institutions. I also recognize [that] as a vice chancellor at one of the leading global circumpolar research universities, I was uniquely situated to fill that role. UArctic's board of governors helps shape how UArctic moves forward, as well as the strategic plan and how it's going to grow and develop. What are the thematic focus areas of the work that the UArctic supports on a global scale going to be?  
Why is it important to bring these leaders together at an organization like UArctic?
We're not only helping to shape and inform academic and research agendas and thinking at a circumpolar level, but we're also engaged in conversations at the intersection of research data, policy, and international relations in the circumpolar North. There's so much uncertainty for us at the state, national, and international levels. I feel like where there's really positive growth in international conversations and communication, we may find ourselves leaning more and more heavily on those places where we have already figured it out. 
We're at a critical juncture within humanity, so the roles and functions of entities like UArctic are likely going to become increasingly important to people who are concerned with what's happening on a global scale. Climate change certainly is one of those driving factors. And as an indigenous person who's serving on the UArctic board of governors, it's particularly important for me to be around the table and to continuously be able to share some of the perspective from my experiences.  •
About International Educator
International Educator is NAFSA's flagship publication and has been published continually since 1990. As a record of the association and the field of international education, IE includes articles on a variety of topics, trends, and issues facing NAFSA members and their work. 
From in-depth features to interviews with thought leaders and columns tailored to NAFSA's knowledge communities, IE provides must-read context and analysis to those working around the globe to advance international education and exchange.
About NAFSA
NAFSA: Association of International Educators is the world's largest nonprofit association dedicated to international education and exchange. NAFSA serves the needs of more than 10,000 members and international educators worldwide at more than 3,500 institutions, in over 150 countries.
NAFSA membership provides you with unmatched access to best-in-class programs, critical updates, and resources to professionalize your practice. Members gain unrivaled opportunities to partner with experienced international education leaders.