'A Global Effort': Public Health, Medicine, and International Education in the Time of COVID-19
"We have an obligation—all of us—to appreciate that we're all in this together, that disease does not know artificial country boundaries."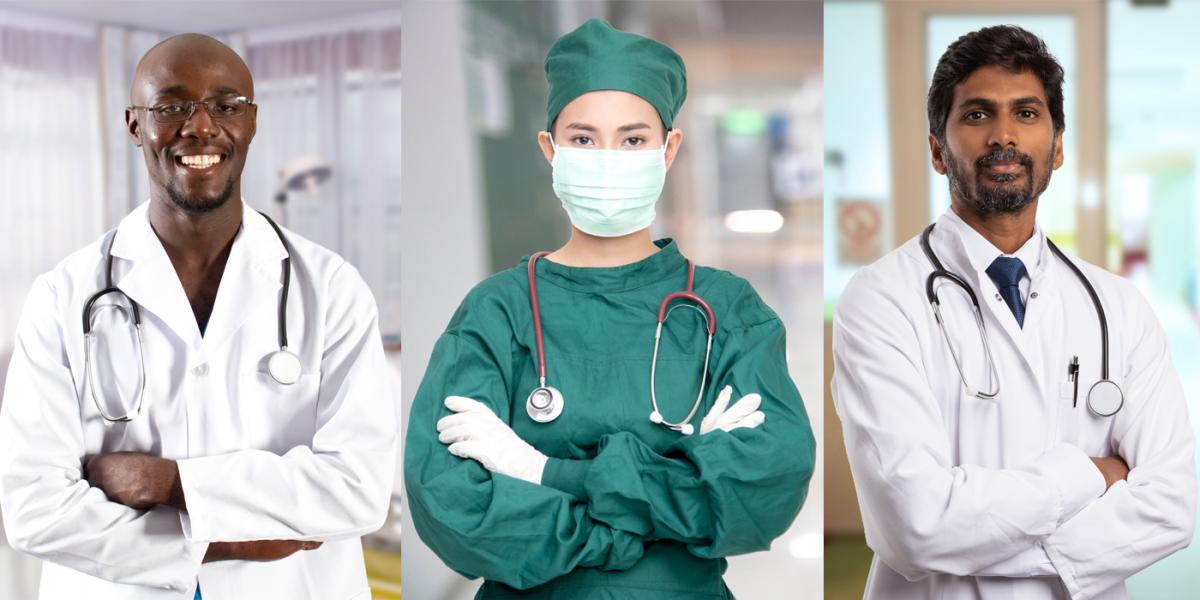 Virtually no corner of the globe has been untouched by the current coronavirus (COVID-19) pandemic. As physicians, researchers, scientists, and others race to slow the spread of the virus, international collaboration is at the forefront of the response.
International Educator spoke with Allison Brashear, dean of the University of California-Davis (UC Davis) School of Medicine, and Diana Farmer, chair of the UC Davis Department of Surgery and surgeon-in-chief of UC Davis Children's Hospital, about the intersection of global medicine and international education, particularly during the current pandemic.
An international researcher and expert on a spectrum of rare neurological disorders, Brashear was professor and chair of the Department of Neurology for 14 years at Wake Forest School of Medicine prior to being appointed dean at UC Davis School of Medicine in April 2019.
Farmer, who is recognized worldwide as a leader in surgical techniques for children, received the 2020 U21 Award for advancing global perspectives in her field. Her own global perspective began when she studied in Asia as a medical student.
Editor's note: This interview has been edited and condensed for length and clarity.
How have UC Davis's global connections helped you address the current pandemic?
Brashear: Global education in medicine is so critical, and nothing puts a brighter light on that than this pandemic. We are now truly a global enterprise. Last night, the leaders from our School of Medicine were on Zoom with leaders in China talking about the pandemic, and we learned from them ways they were treating patients, as well as how much testing [they are doing]—it was a really fascinating discussion. Truly, it's a global effort. And with technology, we are able to span the entire world and communicate with the world.
Farmer: When this first broke out, many of us clinicians who have direct relationships with colleagues and partners in China were able to talk with one another early on to get real, day-to-day, minute-by-minute advice. How are you handling this problem, how are you handling that problem? And it was spectacular. That has never happened before. It really puts a very sharp point on the importance of these global relationships that people have developed over time.
What role do schools of medicine in different countries have to play in an effective response to the coronavirus? How can they collaborate across borders?
Brashear: Planning for the vaccine is paramount. I firmly believe that the advances in a pandemic are going to come from schools of medicine throughout the world. The schools of medicine are really in the ideal situation to take the clinical view and partner with the basic science experts and, when appropriate, partner with industry to produce and bring a vaccine to market.
Farmer: Universities already have in place mechanisms to collaborate with one another. Almost all our professional societies have an international arm. These networks exist. Leveraging those relationships and pre-existing collaborations is what I think will make these advances happen faster than [they have at] any other time in human history. I am confident that it will take less than a year to get some kind of reasonable therapy and/or vaccine. The speed of development is faster than I've ever seen before, for all those reasons that Allison highlighted.
How do medicine and public health intersect with international education, especially to address crises that require global efforts and cooperation?
Brashear: I think there's a strong desire on the part of medical students to have opportunities to train in other countries. We do have students who are able to go to other countries, although the current travel restrictions are really changing the way people think about that.
Probably what's going to [happen] is not the students going [to other countries], but the students having an appreciation about the importance of global medicine. My feeling is [that] it's going to emphasize the role of public health. Typically, public health is not discussed in detail like it is now in the lay press. Now everyone knows what contact tracing is.
I [could] see the curriculum in medical schools changing because of this crisis, so that people are much more aware of global travel, public health, contacts, isolation, and those types of things. It's going to become the new kind of language. I went to medical school in the 1980s, when HIV just emerged. That clearly changed how we [do things]. I think this [pandemic] will do the same.
"Planning for the vaccine is paramount. I firmly believe that the advances in a pandemic are going to come from schools of medicine throughout the world." —Allison Brashear
Farmer: I agree 100 percent. I think medical schools will lead this development. Oxford University is one of the universities leading the way in vaccines. The work that's being done here at UC Davis dovetails nicely with that. I think the answers will come out of our medical schools, and we will partner with our governments to bring those [answers] to people in a faster way and eliminate—I suspect—some of the profit motive that, historically, is part of drug development in our industry-based activities. I think it will be the universities in partnership with government that will really make the meaningful changes worldwide.
What does it mean to have a global view in the context of surgery and medicine?
Farmer: I think this crisis has put the importance of [having] a global view in surgery and medicine in today's world. The suffering is universal—disease is universal and exists all around the world. After this, it will become even more important for students to learn about solutions and the manifestation of disease in different parts of the world. This pandemic really brings that to the fore. I suspect there will be a lot more interest in global medicine in all of our medical schools going forward.
In your own careers, where did your global views or perspectives originate?
Brashear: My first travels were to Nigeria in 1991. I am an author on what they call the Indianapolis-Ibadan project. We studied the incidence of Alzheimer's disease in Ibadan, Nigeria, and compared that to [the incidence] in Indianapolis, Indiana. The difference highlighted a difference in risk factors.
Farmer: I went to Asia in 1983 as a Luce Scholar. The Henry Luce Foundation started this scholarship so that people who would be leaders in their field in the future would have an understanding of Asia. I was struggling with whether or not to become a surgeon. At the time, it was a little unusual for women, and HIV, which had not actually been defined yet, was around. I thought, "Well, great! I'll go over to Asia for a year, [and] this HIV thing will be gone when I get back. No problem."
"After this, it will become even more important for students to learn about solutions and the manifestation of disease in different parts of the world." —Diana Farmer
Well, that wasn't really the case. I didn't have a particular plan about international health at all. I had no idea that it would turn out to be the underpinning for a lifelong career in global medicine. [Later,] I was originally assigned to the National University of Singapore in their surgery department. I had declared that I was going to be an academic surgeon, even though I didn't really know what that meant. But after a while, I realized that I was missing what was best about being in a different country, which was to learn a little more about their approaches to medicine. I actually got certified in acupuncture and traditional Chinese medicine. I always thought it was good as a backup career in case things didn't go so well. So, that was my first exposure to international [medicine].
How did that experience lead you to pursuing a "lifelong career in global medicine"?
Farmer: It was a long hiatus. I came back and had a sort of traditional surgical training, which was 7 years of residency and research work and things like that. I didn't plan to get involved. Then, an opportunity to go to Senegal came about after I finished my pediatric surgery training.
I accompanied an individual on what was really a medical mission—they had started open-heart surgery for children in Senegal. Historically, people thought [surgery] was too expensive and wasn't as cost effective as, for example, vaccine or drug administration. But it turned out that you can change the life of a child who had valvular heart disease with just one operation. And [the child] went from being [considered] a burden on society to being a productive member of society for many years. It was a lifelong, lasting [intervention] versus giving a medication that you have to take every day, and if you miss that medication, it's almost as though the previous 10 years of taking it didn't matter at all. 
It was that experience that launched me into a career in global health. Kind of a side career, because in the early days as a surgeon, this was not well thought of. It was only those infectious disease and family medicine types that did that overseas stuff. For several years, I would use my vacation time to go back to Senegal, but eventually students started asking about what I was doing when I would come back from vacation. That's how it became more.
Your international experience also extends to your induction into the Royal College of Surgeons in England. How has that enhanced your global perspective?
Farmer: That's the exact opposite of my time in Senegal and Uganda, [both] developing countries. I also just happened to be in the right place at the right time when a new field of medicine was getting started—fetal surgery, so, operating on babies still in the womb. That put me in a unique position that ultimately led to me being the second U.S. woman surgeon inducted into the Royal College of Surgeons as a member by election. [It] gave me opportunities to develop a different kind of international experience on a high level, and now I have partners [at] Oxford, and other universities in England, who I can collaborate with for the work that I do now. So, both ends of that international spectrum. Not in a planned way, just a bit by accident.
In medicine, what is the relationship between the local and the global? Where are there inequalities?
Farmer: I like to say, particularly when I'm working at the Shriners Hospitals or other sort of charity-based institutions, that this is just global health at home. The lessons we learn about health care disparities in disadvantaged, or less advantaged, lower- and middle-income countries are the same lessons that we have right here about how much the social determinants of disease are very real. We are seeing that [with] COVID-19. We're seeing that the African American population is being disproportionately disadvantaged in terms of mortality in this country as well. Access to healthcare and opportunities to avail yourself of the most advanced technologies really are based a lot on zip code still, sadly.
Brashear: I agree, it starts locally. The focus on health disparities really should be one of the outcomes of this pandemic, because it is not only access to care, but it is also where people live, the density of where they live, their access to care, and their other health problems that are contributing factors. This pandemic has shone such a bright light on the gaps in care in our society.
"We have an obligation—all of us—to appreciate that we're all in this together, that disease does not know artificial country boundaries." —Diana Farmer
It's something that our medical students have really embraced. Many of the students that come to [UC] Davis are focused on health disparities. And our students were actually out taking care of patients, volunteering [back in] March, and I was so proud that they did that and that they were engaged. They are really committed to improving the health of the communities where they come from.
How have you seen the idea of global and local health change over the course of your career, and how will it change as a result of the current pandemic?
Farmer: In the last 15 years, the language has changed. It used to be "international health." And there's been a very specific change in the verbiage to "global health," to reflect the fact that those are issues that are just as real in this country as they are overseas. So, that switch from international health to global health really reflects exactly the local disparities that Dean Brashear is talking about.
Brashear: I think everything will re-emphasize the importance of investing in public health infrastructure. If we had an investment in public health infrastructure before, we probably wouldn't be in the shape we're in now. And that's hopefully a takeaway that people will see—that public health infrastructure across all the states is critical.
Farmer: Public health infrastructure around the world might have prevented this from happening and spreading as much. So we have an obligation—all of us—to appreciate that we're all in this together, that disease does not know artificial country boundaries.  •
About International Educator
International Educator is NAFSA's flagship publication and has been published continually since 1990. As a record of the association and the field of international education, IE includes articles on a variety of topics, trends, and issues facing NAFSA members and their work. 
From in-depth features to interviews with thought leaders and columns tailored to NAFSA's knowledge communities, IE provides must-read context and analysis to those working around the globe to advance international education and exchange.
About NAFSA
NAFSA: Association of International Educators is the world's largest nonprofit association dedicated to international education and exchange. NAFSA's 10,000 members are located at more than 3,500 institutions worldwide, in over 150 countries.