Practice Area Column
Education Abroad
Supporting Study Abroad Students' Early Reentry
How education abroad offices can support students who return early from their experience abroad, from housing and travel logistics to continuation of classes.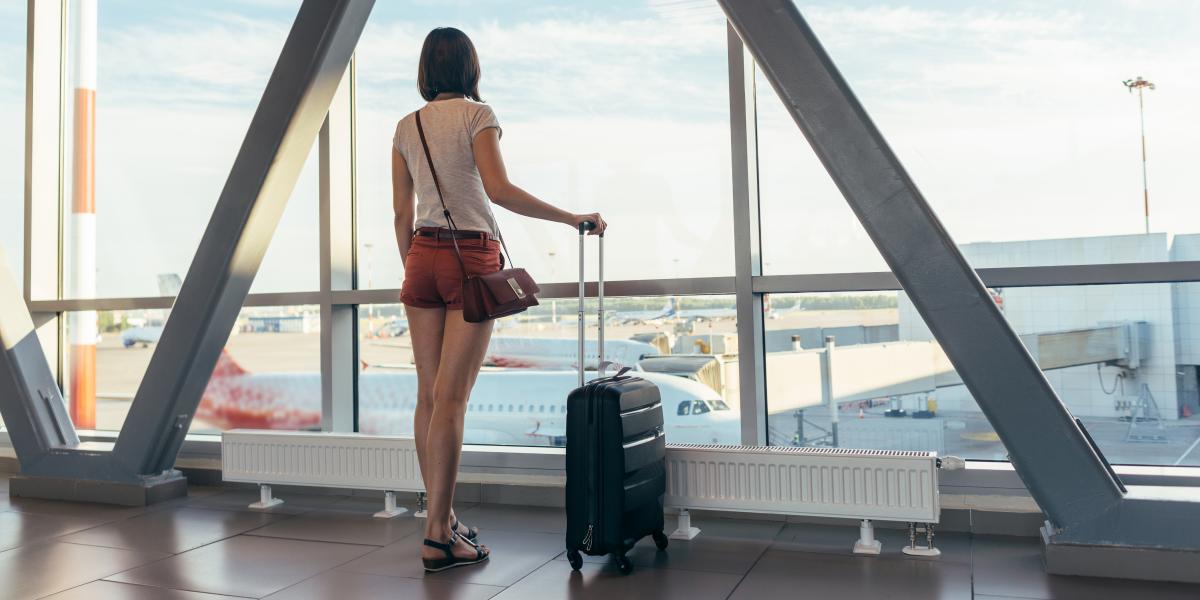 Tikesha Morgan, MA, has spent the past 4 years living in a medieval castle in the Netherlands. As the senior student affairs officer at Emerson College's Kasteel Well campus in the Netherlands, her job is to tend to the social and emotional needs of the students who study abroad there each semester. 
At the beginning of March, COVID-19 forced the college to suspend operations in the Netherlands and send students back home. Instead of taking her 81 students on a weekend excursion to Milan, Morgan found herself accompanying them on a plane bound for Boston.
"When we first announced that we were leaving, students and parents thought we were overreacting," she says. But within a few weeks, says Morgan, they understood the severity of the situation. 
Education abroad staff have reimagined traditional reentry programming to support the thousands of students who were called home early in February and March due to COVID-19. In addition to finding ways to support students through an unprecedented disruption to their study abroad experience, some international offices are leveraging what they know about reentry to share their expertise with their entire campus. 
Manage Travel and Housing Logistics
As soon as the plane landed in Boston—and even before—plans had to be made about where Kasteel Well students would live upon their return to the United States. Morgan planned to stay in Boston for a few weeks to help students get acclimated, since they were initially housed in the dorms on Emerson's campus. Then plans changed. A week after their return to Massachusetts, Emerson announced that all instruction would be remote for the remainder of the semester. Morgan's students had to relocate again as the college asked anyone who could leave the dorms to vacate by March 20. 
"No one has ever had to deal with [something like] this before," Morgan told International Educator in April. "It's hard. I get a lot of emails from people who are really struggling at home with their academics. When they are all in housing on campus, you know what their situation is. But you're talking about 81 different housing situations where we don't know if they are good places for these students to learn."
Emerson was unusual in that the college initially brought study abroad participants back to campus, and the Kasteel Well students continued their classes online with the study site's European faculty. Other colleges and universities recalled students from their programs as institutions switched to remote learning, so most students transitioned to living at home with family after returning from abroad. 
"This crisis became a growth opportunity for students to learn how to manage a crisis, remain transparent and informed, and be able to take charge in an appropriate way of their own dynamics." —Heidi Soneson
The University of Wisconsin-River Falls (UWRF) runs a semester-long study abroad program in Scotland that moved to remote learning in March. Junior Kaitlin Pescinski was studying in Edinburgh with 35 other UWRF students when she found out she had 10 days before she had to return to the United States. Her return flight was canceled three times before she was able to fly back. 
Students were responsible for handling their own travel reservations, but staff supported them when necessary. "As a result, this crisis became a growth opportunity for students to learn how to manage a crisis, remain transparent and informed, and be able to take charge in an appropriate way of their own dynamics," says Heidi Soneson, PhD, assistant vice chancellor for international education at UWRF. 
"In an age where U.S. students have access to so many support services," she says, "we believe that we engaged in helping students become active, collaborative problem-solvers with our program leaders."
Ensure Academic Progress
UWRF gave the group 2 weeks off to readjust before resuming their classes remotely. "That was super helpful, just getting our sleep schedule back and figuring out our lives," Pescinski says. The school was also extremely communicative in getting students information about reimbursements for the cost of changing flights and refunds on housing in Scotland, she says.
Every spring quarter, University of California-Davis (UC Davis) chemistry professor Jacquelyn Gervay-Hague, PhD, takes 15–20 students to Taiwan to study at Academia Sinica, one of the top research institutions in the world. Her students complete a full-year curriculum in pharmaceutical chemistry taught by UC Davis faculty during the quarter, as well as a capstone research project. When the program was canceled this year, two of the required classes were already offered through UC Davis, and Gervay-Hague taught a separate class just for the students who would have been in the Taiwan program. 
In Taiwan, the classes are offered in a block sequence, so class formatting was a challenge, says Gervay-Hague. "The first course, which is my course, is the prerequisite for the next one," she says. "I'm actually accelerating my course so that they'll have all the information they need so that they're not too far behind for the next course that they need to be taking."
Ensuring students were able to continue their studies was somewhat easier for institutions offering their own programs abroad, but bringing students home from third-party providers or exchange programs adds a layer of complexity. Many education abroad offices waited for host institutions or providers to make decisions about continuing classes, according to Julie Anne Friend, JD, director of global safety and security at Northwestern University.
"Everybody's afraid to withdraw the students before the host institution offers academic accommodation because then those students are stuck without transferable credits," she says, adding that students' perception is often, "first, we ruin your study abroad program by making you come home early, then we're putting you in a precarious transfer situation if you don't have an option from your host to complete your courses remotely."
Foster Student Well-being
Once students are physically safe, education abroad offices can then support students in processing an international experience that did not go as planned. Part of the challenge with the current situation is that students have not only been dealing with an abrupt end to their study abroad experience, but they also have not had a "normal" return to the United States, as they were suddenly thrust into a remote learning environment. 
"Our work isn't done when we get them out of country and figure out their online coursework," says Stacey Tsantir, JD, director of health and safety at DIS, a third-party provider that hosts students from all over the United States at their sites in Scandinavia. "It is so important to remember that this is impacting students' well-being. It's key to communicate with students about available resources from your organization or university, but also normalize what's happening."
"Our work isn't done when we get them out of country and figure out their online coursework. It is so important to remember that this is impacting students' well-being." —Stacey Tsantir
To help ease the transition and maintain a sense of camaraderie that often develops in groups of students who study abroad together, Morgan held individual and group Zoom sessions for the Kasteel Well students and hosted a film night where they watched the same movie on Netflix. 
She says she worked hard to let students know that international office staff were still available to support them even if the physical office is closed. 
"I think a lot of our students are feeling alone," she says. "We remind them of our resources, that the college isn't closed. I'm here."
DIS has faced the challenge of working with students who have varying levels of support at their home institutions. 
"We facilitated a conversation with psychology faculty members at DIS for students to log in on Zoom at several different time points to allow them to have a conversation with other students, to hear the faculty member talk about what's normal in these types of situations," Tsantir says. "We just tried to stay in touch with students and offer them as many options as we can to support [them] in this really unique situation."
UWRF's resident director in Scotland, Patricia Watters, MA, created a "virtual teatime" for students to stay connected with Edinburgh-based faculty and with each other. "Virtual teatime was a weekly time we set aside for direct contact with our students," Watters says. "On site, I see students at least once a day and speak with each one at least once a week. Both students and faculty were very used to having informal time to ask questions and chat every weekday, so I felt it would be beneficial to set aside some time weekly to allow for this."
She says that students attended in large numbers right after their return, with fewer attending by the end of the semester: "The major takeaway was that the informal support provided via general conversation was just as valuable [as] making sure the student had the information they needed regarding classes [and] resources." 
Pescinski says it was helpful to have continued connection with staff and students. "We had a group chat with just us students, and we had one with staff and students, so we were constantly still talking to each other," she says. She was able to turn to her peers because "everybody is going through this together."
"The major takeaway was that the informal support provided via general conversation was just as valuable [as] making sure the student had the information they needed regarding classes [and] resources." —Patricia Watters
Emily Dougherty, MS, study abroad adviser at the University of North Dakota, also witnessed the power of peer-to-peer support. "I found it interesting that they weren't looking for a university-based gathering with other study abroad students from elsewhere. They were already talking to their friends from other institutions that were recalled with them," she says.
Prepare for the Fall 
Dougherty, who also serves as the Education Abroad representative on the NAFSA Region IV leadership team, says that she has now turned her attention to reentry programming for the fall semester. Her institution typically organizes an event welcoming study abroad returnees back to campus. "I'm trying to find that balance of offering something for students who might want that connection but not being insensitive, because the experience went in a way that they weren't expecting," she says. 
Some students have already expressed interest in studying abroad again, and Dougherty is considering how to involve students in study abroad recruitment. "I think this is an opportunity for [education abroad staff] to regroup as we're thinking about promoting future study abroad and utilizing our alumni, but also trying to find a way that's sensitive to their needs and their perspective on being recalled," she says. 
At Emerson, the education abroad office has partnered with other units on campus, such as the Center for Health and Wellness, the Office of Student Success, and the Career Development Center, to look at fall programming. 
"All students, faculty, and staff had to go through the same tumultuous shift in spring 2020, and so everyone coming back for fall 2020 is experiencing some form of 'reentry.'" —Corey Blackmar
"[We want to] look into if we can provide a larger, collective orientation or set of programming focused on aspects of reentry that may be just as applicable to students who were based in Boston as those who studied abroad," says Corey Blackmar, MA, associate director of internationalization initiatives.
An example of a potential activity is a workshop aimed at students, faculty, and staff that incorporates reentry activities through the lens of COVID-19. Participants might be asked to focus on positive outcomes of the experience, such as new skills they have developed or how the experience has made them more adaptable. Emerson's education abroad office also plans to create a modified reentry workshop specifically for education abroad returnees and international students who underwent a physical or cultural displacement as part of the pandemic. 
"When we look at it, all students, faculty, and staff had to go through the same tumultuous shift in spring 2020, and so everyone coming back for fall 2020 is experiencing some form of 'reentry.' We're trying to use what we know about study abroad reentry to contribute to the larger conversation across campus about what it means to come back to college during this time."  •
---
Four Ways Education Abroad Professionals Can Guide Students Through a Difficult Reentry Processes
By Stacey Tsantir, director of health and safety, and Stephanie Bowman, MSW, health and safety coordinator, DIS
1. Communicate with students. Discuss the incident or crisis and the support available while at the program location, in addition to communicating about these factors:
Explain the range of feelings and reactions that may occur throughout the recovery or grief process, including after return.
Discuss indicators of the need for mental health counseling.
Educate students about community resources in country—both on campus and off.
2. Offer support after students get home, too. Crisis response reactions often happen in the days, weeks, and months after a particular incident. Here are a few tips:
Use technology to reach out to students who are reluctant to seek help. 
Host an online meeting with a care team, student affairs office, or counselor, starting with a presentation from the facilitator so students do not have to lead the discussion.
Consider both individual and group options for support.
3. Anticipate how the shortage of mental health services on campus can be managed, especially if there is a group of several affected students returning to potentially overstressed systems. 
4. Consult with the campus counseling center and other resources to provide students with easy access to support, including a texting hotline, increased hours for mental health counseling, and religious or cultural advisers on or off campus. 
NAFSA Resources
Additional Resources
About International Educator
International Educator is NAFSA's flagship publication and has been published continually since 1990. As a record of the association and the field of international education, IE includes articles on a variety of topics, trends, and issues facing NAFSA members and their work. 
From in-depth features to interviews with thought leaders and columns tailored to NAFSA's knowledge communities, IE provides must-read context and analysis to those working around the globe to advance international education and exchange.
About NAFSA
NAFSA: Association of International Educators is the world's largest nonprofit association dedicated to international education and exchange. NAFSA's 10,000 members are located at more than 3,500 institutions worldwide, in over 150 countries.