Reflections on the NAFSA IE Competencies: Communication
Why communication is a critical competency now and in NAFSA's next chapter.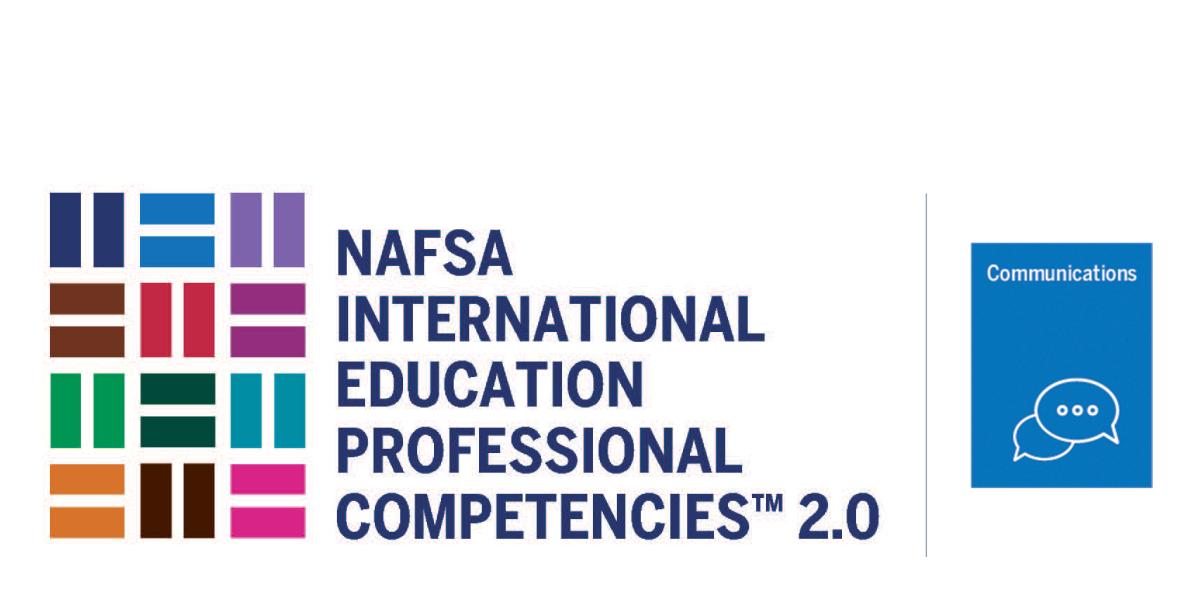 Editor's note: This article is one in a new series for 2023 that explores one of the 12 International Education Professional Competencies 2.0 in each issue of International Educator. Each written by a NAFSA member, the articles cover how that competency is critical to the future of the field and what it looks like in practice.
As a marketing professional in a large public university's education abroad office, I believe that effective marketing and communications strategies are vital for all international educators. Good communication serves as the basis for attracting international students, promoting study abroad programs, and engaging different audiences throughout all the stages of a student's experience (e.g., brand awareness, introduction of products and services, going abroad, returning to campus).
Keeping in mind three key principles will allow international educators to develop the core competency of communication.
1. Be concise.
It's essential to convey information succinctly. Students have limited time and attention spans that seem to shrink by the day. However, everyone—not just students—benefits from clear and concise messages. By practicing conciseness and creating well-planned content sequence models, we can streamline communications and convey messages effectively.
Imagine the different steps that we take to purchase a car. Which information is presented to you during a TV commercial compared to when you walk into a dealership showroom? Giving audiences the small amount of information that they need at each specific juncture allows them to make an informed decision and react to our calls to action.
It's essential to convey information succinctly. Students have limited time and attention spans that seem to shrink by the day.
Helpful steps include: taking an inventory of all your messages; prioritizing information; eliminating unnecessary details; and delivering messages in a straightforward manner. These practices minimize confusion in a high-involvement consumer decision process (whether that's purchasing a car, selecting a study abroad program, or starting to look for a home) and enable audience members to grasp information quickly.
2. Be consistent.
Consistency in communication fosters trust, reliability, and clarity. When we strive for consistency across various communication channels, we ensure a cohesive and reliable experience for students, parents, faculty, advisers, and staff. Consider strong brands such as Cheerios, Nike, and Duolingo. Which images came to the front of your mind for each of these? Consistent messaging creates a sense of professionalism and reinforces the reputation of the provider, office, or institution.
Consistency extends beyond the content of communication to its tone, language, and branding. By maintaining a consistent tone, we can create familiarity and build rapport with all audiences.
In addition, consistent branding across various communication channels—such as websites, brochures, and social media accounts—enhances your organization's image and credibility. This consistency creates a cohesive visual identity, making it easier for people to identify and connect with the institution or program, just as we are more likely to connect with and trust Nike-branded products because its website, advertising, sponsorship, and social media branding are consistent.
By maintaining a consistent tone, we can create familiarity and build rapport with all audiences.
After establishing consistent language and branding guidelines, analyze your audiences and segment them by key demographics (e.g., gender, age, class standing, major). Tailor your marketing messages to these audiences. Create personalized campaigns that resonate with different groups. Your newly created targeted and integrated marketing campaigns will grab the attention of potential international students and study abroad program participants, drive interest, and, hopefully, increase enrollments.
3. Be creative.
While being concise and consistent are critical, make room for creativity in communication practices. Creativity allows us to better engage students, evoke emotions, make a positive impression, and have fun. By incorporating innovative approaches, we can capture students' attention, spark a sense of excitement about going abroad or coming to the United States, and, in the end, help students create memorable experiences.
One creative, powerful approach is peer-to-peer marketing. Whether it's returned study abroad students who have returned to campus or current or former international students, they can promote their experiences and compel prospective students to consider the opportunity. Creative communication can include in-person storytelling, short videos, humorous and light-hearted messages, and interactive information sessions. Student communicators can share real-life experiences that showcase programs' cultural offerings, provide practical information, and highlight the transformative effects that the students have experienced.
Another aspect of creativity to consider is utilizing generationally appropriate color palettes and visual aids, such as infographics, videos, and recent photos of students. These visuals help convey complex information quickly, enabling students to understand and retain key messages effectively.
Creativity allows us to better engage students, evoke emotions, make a positive impression, and have fun.
Effective communication plays a pivotal role in our professional lives. We work hard to design programs and create opportunities for students, but for students to take advantage of them, they have to know about them—and that's where communication is key.  •
NAFSA Resources
About International Educator
International Educator is NAFSA's flagship publication and has been published continually since 1990. As a record of the association and the field of international education, IE includes articles on a variety of topics, trends, and issues facing NAFSA members and their work. 
From in-depth features to interviews with thought leaders and columns tailored to NAFSA's knowledge communities, IE provides must-read context and analysis to those working around the globe to advance international education and exchange.
About NAFSA
NAFSA: Association of International Educators is the world's largest nonprofit association dedicated to international education and exchange. NAFSA serves the needs of more than 10,000 members and international educators worldwide at more than 3,500 institutions, in over 150 countries.
NAFSA membership provides you with unmatched access to best-in-class programs, critical updates, and resources to professionalize your practice. Members gain unrivaled opportunities to partner with experienced international education leaders.