Practice Area Column
Education Abroad
Engaging Black Students in Global Opportunities Through Culturally Responsive Leadership
How international educators can prioritize and amplify efforts to increase global engagement among Black students.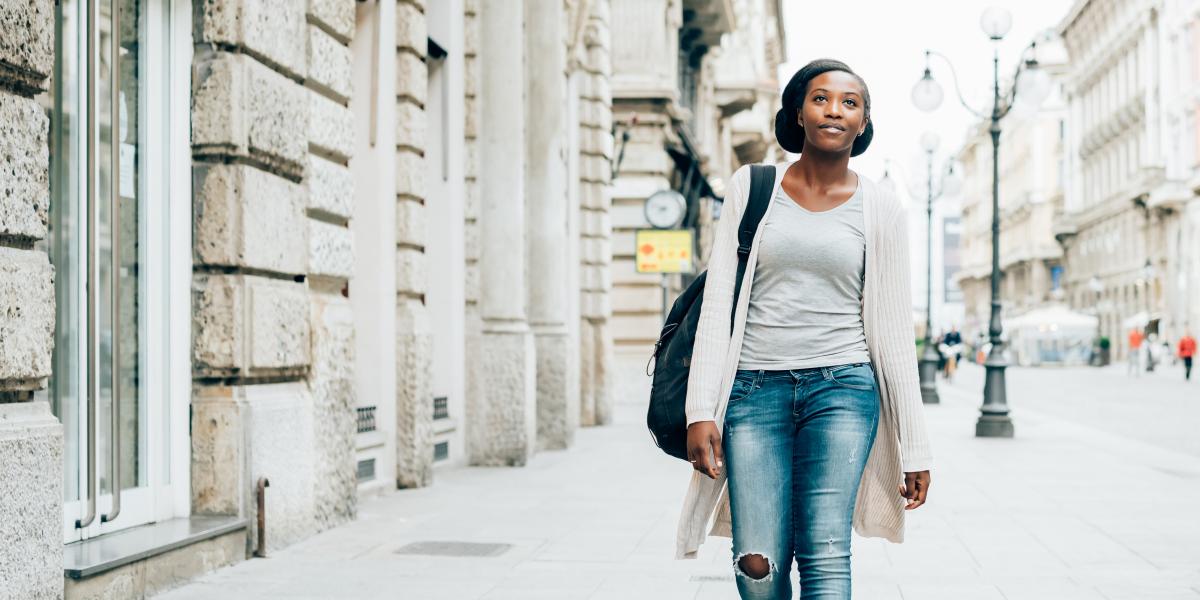 It is crucial for Black students to participate in international programs, as these experiences are life changing and allow students to enhance skills such as cultural competence, critical thinking, and self-efficacy. However, according to the 2020 Open Doors report from the Institute of International Education (IIE), just 6.4 percent of Black students studied abroad during the 2018–19 academic year. Additionally, the 2017 Open Doors report found that only 0.5 percent of students from historically Black colleges and universities (HBCUs) participated in study abroad. 
Currently, there are no accessible data on the number of Black or HBCU students who participate in government-funded international exchange programs, but the numbers are likely similar to IIE's study abroad data. These statistics demonstrate the need to prioritize and amplify efforts to increase Black students' global engagement. With this understanding, the education abroad field can increase Black students' study abroad participation by centering culturally responsive leadership and culturally relevant outreach and marketing practices. 
What Is Culturally Responsive Leadership?
A term coined by Gloria Ladson-Billings, "culturally responsive" derives from an anti-oppressive ideology that incorporates pedagogy, practices, and policies that create inclusive learning spaces for students and families of ethnic and culturally diverse backgrounds. 
Culturally responsive leadership requires international educators to:
have critical consciousness of self;
ensure educational staff and stakeholders are culturally attuned in service delivery and programming initiatives;
create and sustain an inclusive and equitable environment and intentional involvement with students and parents;
go beyond performative allyship and embrace the intricate and complex nuances of diversity work by addressing historically oppressive and colonial frameworks that have subconsciously guided or affected our decision-making;
use positional power to consistently advocate for marginalized populations despite the social implications that may follow; and
eradicate biases in policies and invite privileged populations to the conversation despite the discomfort they may feel visibly or internally.
Three Factors That Affect Culturally Responsive Leadership
From a broad perspective, there are several factors that affect international offices' ability to implement culturally responsive leadership. These challenges are widespread and felt by many institutions, especially during the COVID-19 pandemic. To mitigate these obstacles requires creativity, critical thought, and resourcefulness, as well as efforts to dismantle systems of oppression to center and embed culturally responsive practice within a leader's department. Three common factors that affect culturally responsive leadership, along with recommendations to overcome them, are:
Shortage of staff and resources: Work with alumni and alumni-led organizations within or outside the institution to assist in reaching Black students.
Competing priorities or lack of institutional support: Utilize and collaborate with professional networks on initiatives to share the weight of implementation.
Unclear vision to support and prioritize diversity work: Create a SWOT (strength, weakness, opportunity, threat) analysis that can foster crucial conversations about departmental weaknesses and strengths to elevate competencies and action around diversity work.
Culturally Relevant Marketing and Outreach
Using culturally relevant marketing allows Black students to view study abroad or international exchange programs as accessible to them. This approach takes time and a well-planned strategy to be effective. It requires international educators to be intentional when conducting outreach to students and use appropriate communication channels to reach Black students. 
Many Black and HBCU students may not be aware of international programs, as many people in their immediate communities have not participated in them, so sharing information about available opportunities is key to increasing Black students' interest. Having mentors or student ambassadors who look like them or come from a similar background is also crucial to raising these students' awareness of opportunities. 
When recruiting Black students, international educators should keep a few considerations in mind:
Understand the students' needs; take time to create effective strategies to meet those needs and intentionally reach students. 
Use social media, rather than email, as an effective outreach tool.  
Partner with alumni, external organizations, and international exchange partners to expand outreach to Black students.
Target outreach to Black students within clubs, organizations, and specific departments. 
Several alumni-led organizations have been created to meet the needs of specific groups of students. Eight Fulbright Program initiatives, known as the Diversity Collective, focus on increasing access and support for minority students interested in applying to the Fulbright Program. (Read more about utilizing alumni.) Two other programs, WeRepresent Virtual Conference and International HBCU Xchange (iHBCUx), were created to specifically engage minoritized groups.  
Strategies for Increasing Student Participation
A two-pronged approach of nurtured advising and programming strategies can increase study abroad and international program participation among Black and HBCU students. 
Nurtured advising is rooted in culturally responsive practice and focuses on building a personal relationship with the students and creating a sense of community for them; this form of advising has been adopted and shown to be effective within HBCU communities. 
This strategy builds trust with the student so that they feel their adviser is invested in them and their best interests. Advisers should remain present and consistent throughout all students' application processes, which affirms the students and increases the likelihood that they will engage in global learning. Nurtured advising results in students who are more apt to act on their adviser's counsel and recommendations. 
To craft programs that are culturally responsive for Black students, global educators must be willing to have in-depth conversations, as their programming should reflect the holistic inquiries and needs of Black students. Examples of topics that focus on Black student global engagement include
navigating imposter syndrome;
anti-Blackness and/or colorism;
navigating nationality privilege as a person of color;
exploring global Blackness and understanding diaspora communities; and
elevating your experience abroad as a person of color within a professional setting. 
If a department feels like they do not have the jurisdiction to speak or lead on such topics, they can easily collaborate with campus partners, student organizations, peer institutions, or alumni-led organizations are directly connected to and understand that topic area. An article about HBCU programming collaboration and the fall 2020 Global Impact Exchange include resources about culturally responsive programming initiatives. 
"Nourishing the Whole Self"
Culturally responsive leadership involves acknowledging and nourishing the whole self of Black students interested in global engagement. There is not a linear approach to implementing culturally responsive leadership; however, the roots of this leadership are awareness, critical analysis, authenticity, and intentional action. Culturally responsive leadership requires approaching justice, equity, diversity, and inclusion with a critical and intentional lens to ensure all aspects of one's educational system contribute to the self-building process of Black students. Within international education, culturally responsive leadership requires a heightened sensitivity, understanding, and urgency for solutions to social justice to adequately serve Black students.  •
NAFSA Resources
Additional Resources
About International Educator
International Educator is NAFSA's flagship publication and has been published continually since 1990. As a record of the association and the field of international education, IE includes articles on a variety of topics, trends, and issues facing NAFSA members and their work. 
From in-depth features to interviews with thought leaders and columns tailored to NAFSA's knowledge communities, IE provides must-read context and analysis to those working around the globe to advance international education and exchange.
About NAFSA
NAFSA: Association of International Educators is the world's largest nonprofit association dedicated to international education and exchange. NAFSA's 10,000 members are located at more than 3,500 institutions worldwide, in over 150 countries.