Reflections on the NAFSA IE Competencies: Recruitment, Enrollment, and Advising
Why recruitment, enrollment, and advising together are a critical competency now and in NAFSA's next chapter.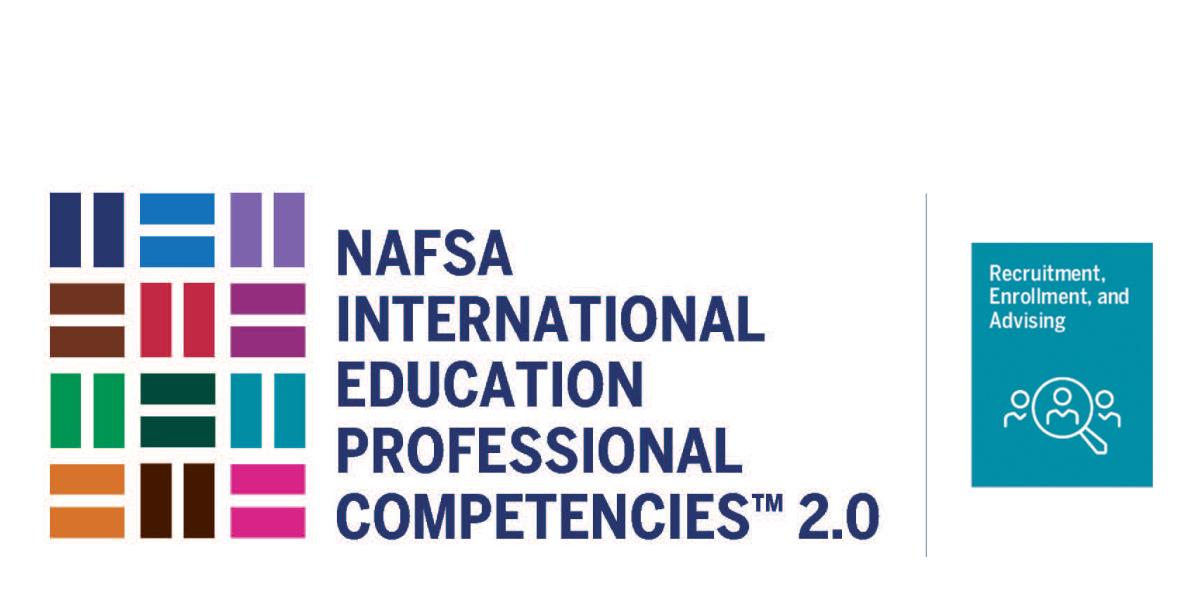 Editor's note: This article is one in a new series for 2023 that explores one of the 12 International Education Professional Competencies 2.0 in each issue of International Educator. Each written by a NAFSA member, the articles cover how that competency is critical to the future of the field and what it looks like in practice. 
The roles performed by professionals in recruitment, enrollment, and advising (REA) have a significant impact on outcomes related to student success and retention.  Those who work in these areas have likely developed this competency; however, I would argue that aspects of REA are critical to the work of all international educators. While the approach to REA varies considerably based on institutional size, type, location, and a multitude of other considerations, I have observed a few key factors that play a positive role in enhancing student achievement and institutional outcomes:  
1. Interconnectedness and Effective Communication Between REA Areas
In my experience, shared purpose and robust communication between REA areas, as well as with professionals in other areas of international education, lead to achieving higher levels of student retention and meeting enrollment goals. 
At my institution, a community college near Seattle, the international education department is a one-stop shop, encompassing international marketing, overseas recruitment, admissions, F-1 advising, academic advising, student engagement, and international partnerships. Each area's work informs theothers', and the resulting feedback loop allows for continuous process improvement. While there can still be occasional silos, this model can make it easier to have a strong connection between the various REA areas. Of course, commitment from leaders and team members goes a long way in making that happen. 
Conversely, at the large research university where I previously worked, the structure could not have been more different. It was a very decentralized model that had multiple offices for international student and scholar services, admissions, and academic advising. Instituting structured communication channels and cultivating a culture where employees are strongly encouraged to collaborate is particularly helpful in establishing meaningful connections and seamless workflows in this model. 
2. Agility and Responsiveness to External Factors
Over the course of my career, I have seen many disruptions in our field, including the Asian financial crisis in the late 1990s; the attacks of September 11, 2001; SARS; SEVIS implementation; the Iraq War; and, of course, the COVID-19 pandemic. These events underscore the need for REA professionals to be agile as they navigate evolving landscapes. I encourage us to expect change. We can be more effective if we enhance our ability to be responsive not only to big geopolitical events but also to other external shifts, such as changing student demographics and new recruitment markets. This expectant mindset can benefit all international educators across the field.
3. Inviting Institutional Stakeholders In
It is not uncommon to hear international educators talk about colleagues in other areas on campus who do not understand the work that they do or the needs of international students and scholars: "They don't understand the myriad of F-1/SEVIS restrictions!" or, "Why do they always refer to international students as 'your students'?" 
While this may be the case, building relationships with campus colleagues and finding avenues for active collaboration with noninternational education counterparts contributes greatly to international student success and retention. It becomes easier to respond to a crisis when there are strong relationships already in place. It also helps international students become "our students" for everyone at the institution. 
A Win-Win for Students and International Educators
The skills that compose the recruitment, enrollment, and advising professional competency play an important role in every corner of the international education arena. Cultivating stronger and more seamless connections between the various areas of REA, encouraging agility and responsiveness to external conditions, and intentionally including other campus stakeholders will contribute to better student and institutional outcomes.  •
---
Samira Pardanani is Associate Vice President, Student Services and International Education Shoreline Community College. She oversees international recruitment, admissions, academic/transfer advising, study abroad, and international partnerships. 
NAFSA Resources
About International Educator
International Educator is NAFSA's flagship publication and has been published continually since 1990. As a record of the association and the field of international education, IE includes articles on a variety of topics, trends, and issues facing NAFSA members and their work. 
From in-depth features to interviews with thought leaders and columns tailored to NAFSA's knowledge communities, IE provides must-read context and analysis to those working around the globe to advance international education and exchange.
About NAFSA
NAFSA: Association of International Educators is the world's largest nonprofit association dedicated to international education and exchange. NAFSA serves the needs of more than 10,000 members and international educators worldwide at more than 3,500 institutions, in over 150 countries.
NAFSA membership provides you with unmatched access to best-in-class programs, critical updates, and resources to professionalize your practice. Members gain unrivaled opportunities to partner with experienced international education leaders.