Practice Area Column
International Students and Scholars
Meet Them Where They Are: Supporting LGBTQ International Students
As part of the wider campus community, it is incumbent upon international offices to create safe spaces and make connections for students.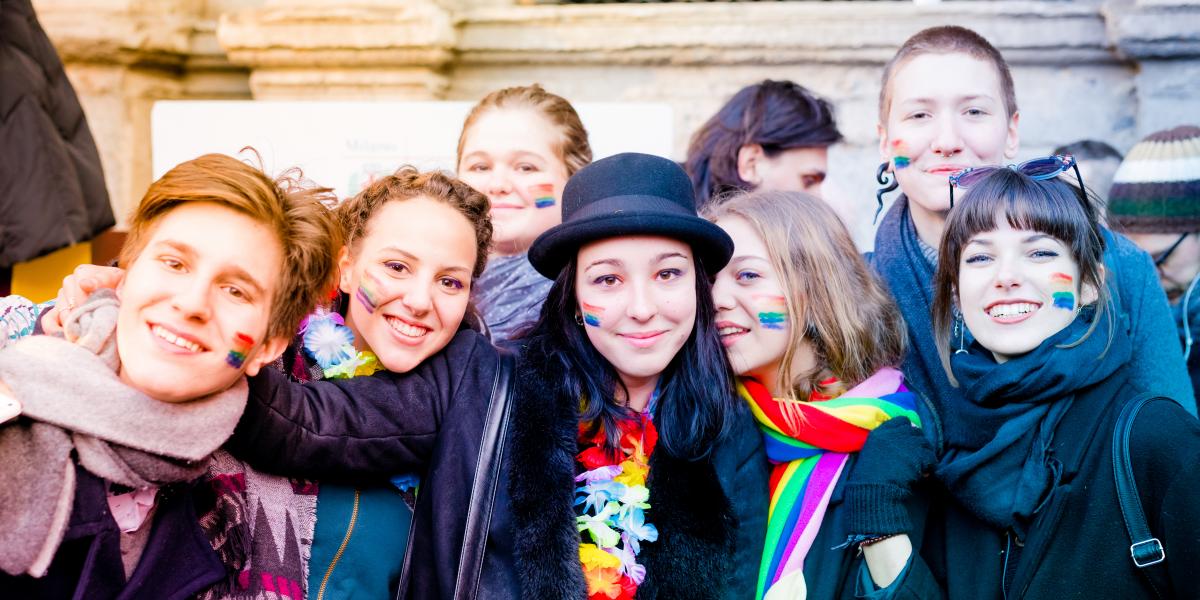 International student services offices often work with students who have intersecting identities, including those who identify as lesbian, gay, bisexual, transgender, and queer (LGBTQ). These students often face the double burden of adjusting to life in another culture while navigating questions around their own identity and orientation. 
"An international student who is in the LGBTQ community and is studying in the United States, by definition, already has so many identities and cultural considerations that it's better to start out listening and see what they say they need," says Sharece Bunn, MEd, assistant director of international student advising at the University of Washington.
To better support LGBTQ international students, international offices must create welcoming spaces, partner with other offices on campus, and connect with community and campus resources. International office staff also have a role to play in educating all international students about issues related to the LGBTQ community.
The Numbers
Data on the number of LGBTQ international students in the United States are limited, but surveys of the overall student population indicate that a significant portion of students identify as LGBTQ. A spring 2021 survey from the American College Health Association found that nearly a quarter of college students described themselves as asexual, bisexual, gay, lesbian, pansexual, queer, or gender questioning. More than 4 percent reported that they identify as transgender or gender non-conforming. 
While that percentage cannot necessarily be applied to international student populations, of the more than 1 million international students studying in the United States, it's fair to assume that tens of thousands likely identify as LGBTQ. 
However, research shows that international students from some countries may be less likely to be "out" than their domestic peers. A 2019 study, published in open-access journal PLOS ONE, found that an estimated 83 percent of sexual minorities around the world conceal their sexual orientation from all or most people. Degree of concealment was highest in certain African and Middle Eastern countries and lowest in Western Europe, North America, Australia, and New Zealand.
Creating Safe Spaces
Much of the support that international student and scholar services (ISSS) offices offer occurs through the regular one-on-one interactions that their advisers have with international students. One of the simplest steps that advisers can take is to visually signify that the office is a safe space. 
"An office can really find good ways of being visibly open and welcoming to LGBTQ+-identified international students so they really feel comfortable with the office or an individual adviser as a source of support," says Katrina Knudsen, MA, manager of international student services at the University of Maryland-College Park (UMD). "You can start by displaying signs and symbols of acceptance and advocacy, and even better if these symbols can be something from their own country or cultures and LGBTQ+ movements, and not simply U.S.-centric symbols of LGBTQ+ support."
"For some international students, it might be the first time that they've ever stepped into a queer space, and that's where you're starting from." —Loren Scott
It's also important to let students take the lead in disclosing their identities or asking for help. ISSS staff should be aware that the experiences international LGBTQ students have on campus might be very different from those of their domestic counterparts. For example, it might take longer to build a trusting relationship in which the student feels comfortable opening up. 
"For some international students, it might be the first time that they've ever stepped into a queer space, and that's where you're starting from," says Loren Scott, MA, international services specialist at Middlebury College. "It's hard to generalize, but it's a layer that I think [we as international education professionals] need to be aware of."
Scott says that international offices also need to be intentional about communicating that sharing one's gender identity or sexual orientation does not in any way impact their immigration status: "We try to be really intentional about that from orientation and saying, 'We're here to support you in a multitude of ways.'"
Knudsen adds that every student is going to want a different level of support from the international office. Advisers can ascertain how much support a student wants by asking them questions: How can the ISSS office help them? Are they looking to make connections with other students on campus? Are there immigration resources that may intersect with their long-term plans or identities?
Erin Hillis, PhD, director of international programs at Rhodes College, says that one of the best practices for introducing LGBTQ identities is in discussions of relationships during international student orientation. This discussion provides an opportunity to "focus on multiple identities and the complexities of relationships rather than focusing [only] on the heterosexual relationships," she says. 
Knudsen advises including some information about identities and LGBTQ resources, but ISSS staff should be careful not to overwhelm students. "At UMD, we have decided to introduce this in very small ways," she says. "We tend to keep those efforts a little bit smaller so that the students are not overloaded with information, and leave the real programming and connection to after orientation, when students are beginning to feel more comfortable in their space."
Building Campus and Community Relationships
In addition to supporting individual students through advising, the international office can provide additional resources and support by making connections across campus that benefit students. 
At UMD, the ISSS office has worked closely with the school's LGBTQ+ Equity Center. The center maintains a list of representatives from support offices across campus who are trained to support LGBTQ students. 
"When their students are in need of services, [advisers] can consult that list to find an ally in any one office," says Knudsen, who serves as the liaison for the ISSS office at UMD. 
"Push your LGBTQ+ equity office to think about developing [a list] if they don't have one," she says. "And then have that ISSS staff member connect with the other liaisons across campus to address student concerns."
Knudsen says the list has also helped her office develop other examples of meaningful partnerships and programming. Her office has worked with the director of the LGBTQ+ Equity Center and the director of education abroad to organize an annual conference, Somewhere Over the Rainbow, which looks at issues of sexual orientation and gender identity in international education. The international office and the LGBTQ+ Equity Center also run joint programming with the campus career center that helps international students and LGBTQ students navigate the complexities of the U.S. job market.
"Look for opportunities to run programs that will foster a safe space for connection." —Katrina Knudsen
Another important campus partnership for the international office is with the counseling and wellness center. During the pandemic, LGBTQ students reported higher rates of negative impacts from COVID-19 than their peers in areas including mental health, motivation or focus, loneliness and isolation, academics, and missed experiences or opportunities, according to a study from the Center for Collegiate Mental Health. 
A 2021 survey from the Trevor Project found that 42 percent of LGBTQ youth seriously considered attempting suicide in the past year, and more than 80 percent of LGBTQ youth reported that COVID-19 made their living situation more stressful—and only 1 in 3 LGBTQ youth found their home to be LGBTQ-affirming. This number could include queer international students who had to travel back to situations in their home countries that are less welcoming. 
"We always refer students to the counseling center when they are concerned about their safety, or about how to manage family relationships, because we aren't skilled in that," Bunn says. 
For campuses that don't have LGBTQ centers, Knudsen suggests connecting with other student support offices that do programming for LGBTQ students or participating in campuswide efforts. "Look for opportunities to run programs that will foster a safe space for connection," she says. For example, at UMD, the ISSS offered a special session of their international coffee hour focused on the use of correct personal pronouns for International Pronouns Day in October, Knudsen says. 
Hillis also suggests tapping into community events and resources. An organization called Mid-South Pride organizes a pride festival and parade in Memphis each year, and before the pandemic, Rhodes College paid for T-shirts and sponsored a large contingent from the college, which included international students. 
Language Lessons
In addition to connecting students to campus and community resources, talking about language use can be a simple and important way to introduce international students to LGBTQ resources on campus. 
At Middlebury, it's common practice for any student to introduce themselves with their names and pronouns in any campus forum. "When our international students first come to Middlebury, for a lot of them that might be a really unusual thing to do," Scott says. "But right off the bat when we first meet them in orientation, we say, 'It's common at Middlebury that you'll be asked to say your name and your pronouns in introductions.'"
"The pronoun thing is a good entry point to start with talking about some of these things that everybody can do," says Scott. "It's something that we've been able to incorporate as a campus culture. And so it doesn't matter if you're queer identified. Everybody starts with their pronouns."
Scott says it helps students understand that pronouns might not match someone's appearance or gender expression. 
"The pronoun thing is a good entry point to start with talking about some of these things that everybody can do. It doesn't matter if you're queer identified. Everybody starts with their pronouns." —Loren Scott
In addition, international offices can introduce international students to some of the common words used to describe the LGBTQ community in the United States—and advisers can learn some of the common vocabulary describing queer identities in other countries. "It's a place to start a conversation," he says. 
Knudsen says the ISSS office at UMD uses a video developed by the LGBTQ+ Equity Center about how to use pronouns correctly, and she recommends that ISSS offices look at how they keep track of students' preferred pronouns and names in their office databases. 
"During the documents check or SEVIS registration process, you could collect that information about students' pronouns and names, and then continue to use them to make students feel more comfortable in your office and on campus," she says. 
At the University of Washington, staff talk broadly during orientation about the LGBTQ support and resources that are available on campus. Orientation also provides an opportunity to inform all international students about expectations around language and conduct. 
"We talk broadly about what we support here at the school, what we require [of] students to be the baseline for standards of conduct, what is discriminatory language, what we consider to be a slur on campus here, and what are the consequences for engaging in those kinds of activities or languages," Bunn says.  
Providing Support for Returning Home
Knudsen says it's important to acknowledge that students may have wildly varying circumstances when they go back to their home countries during breaks or after graduation. Both the ISSS office and the LGBTQ+ Equity Center at UMD provide resources and programming ideas that generally address the stressors and well-being issues about going home or not. 
"This may come in the form of newsletter links and resources around mental health during those holiday periods or close to graduation time," Knudsen says. 
She adds that some LGBTQ international students may want to stay in the United States after graduation because they don't feel safe in their home countries. ISSS offices should be prepared to assist or refer students to immigration attorneys if they want to seek asylum. In the case of one UMD international student who successfully applied for asylum, the LGBTQ+ Equity Center provided a letter of support that was used to document the student's involvement with the LGBTQ community and past fears of persecution in their home country. 
Meet Them Where They Are
The key to helping LGBTQ international students, whether they are just arriving or starting to think about postgraduation plans, is meeting them where they are. It is incumbent upon international offices, as part of the wider campus community, to find ways to create safe spaces. 
"We are constantly trying to find the gaps in our support and [remove those] and find how to be more inclusive, more affirming, and more supportive for everybody," Bunn says. "So anybody who has international students who are in the LGBTQ community, they have to know what the students' needs are and where they're coming from and what their goals are for where they are."  •
NAFSA Resources
Additional Resources
About International Educator
International Educator is NAFSA's flagship publication and has been published continually since 1990. As a record of the association and the field of international education, IE includes articles on a variety of topics, trends, and issues facing NAFSA members and their work. 
From in-depth features to interviews with thought leaders and columns tailored to NAFSA's knowledge communities, IE provides must-read context and analysis to those working around the globe to advance international education and exchange.
About NAFSA
NAFSA: Association of International Educators is the world's largest nonprofit association dedicated to international education and exchange. NAFSA serves the needs of more than 10,000 members and international educators worldwide at more than 3,500 institutions, in over 150 countries.
NAFSA membership provides you with unmatched access to best-in-class programs, critical updates, and resources to professionalize your practice. Members gain unrivaled opportunities to partner with experienced international education leaders.